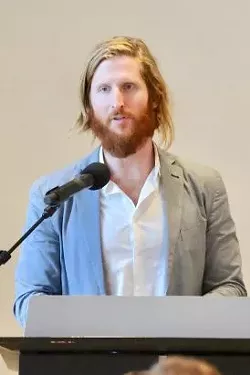 University of Michigan associate professor John Cheney-Lippold received death threats after he declined to write a recommendation letter for a student to study in Israel due to a personal boycott on behalf of Palestinian rights.
Club Z, a student Zionist organization,
posted a screenshot
of the email exchange on Facebook on Sept. 16. The post quickly went viral.
Cheney-Lippold, who is an expert in big data and surveillance, has faced accusations of anti-Semitism, which he denies. Despite the accusations and death threats, he says he is sticking to his decision.
"I wouldn't cross a union picket line and I can't cross this one," he said in a statement sent by Palestine Legal, a Chicago-based advocacy group, to
The Detroit News
.
"I support the Palestinian boycott call because I am appalled at Israel's continuing violation of Palestinian rights, and our government's support for those violations," Cheney-Lippold said. "If a student had wanted to do a study abroad at an institution in Apartheid South Africa, I would have declined to write a letter for her as well."
The University has distanced themselves from Cheney-Lippold, saying in a statement that the administration opposes the boycotting of Israeli institutions of higher education and that no academic department or unit maintains an official boycott.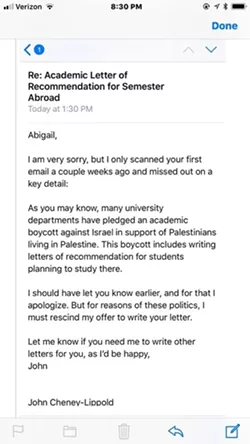 "Injecting personal politics into a decision regarding support for our students is counter to our values and expectations as an institution," the University said in
a statement
. "It is disappointing that a faculty member would allow their personal political beliefs to limit the support they are willing to otherwise provide for our students."
"We will engage our faculty colleagues in deep discussions to clarify how the expression of our shared values plays out in support of all students."
The boycott began after the Central Student Government called for the University to explore divestment from companies that violate Palestinian human rights. The following December, the Board of Regents declined to consider the resolution in an online statement.
Will Feuer is a Metro Times fall editorial intern.
Stay on top of Detroit news and views. Sign up for our weekly issue newsletter delivered each Wednesday.