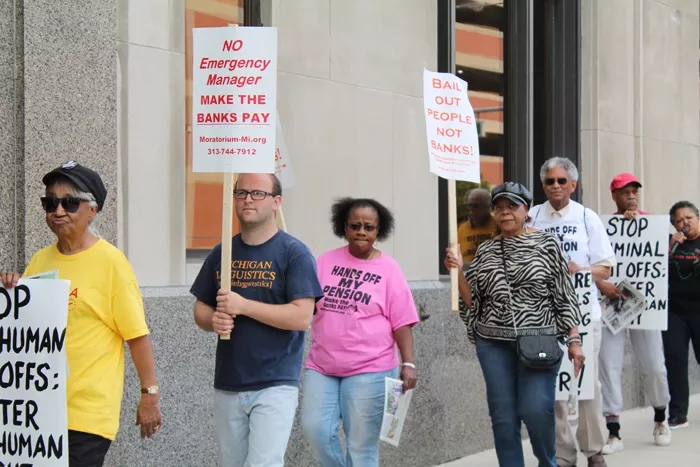 It's unusual for the know-it-alls at News Hits to get confused over something we've previously reported on, but we were taken aback last week by a story in The New York Times about Detroit's ongoing water shutoffs.
Written by Detroit-based freelance writer Anna Clark, the piece highlights the ongoing disparity embedded in the Detroit Water & Sewerage Department's initiative to cut water service to more than 1,500 customers per week with delinquent accounts. Critics have blasted the plan, saying it unfairly targets residential accounts rather than big-name corporations, such as those identified by WDIV Channel 4 in April as having substantial outstanding fees.
In the Times piece, Clark wrote of the big players revealed by WDIV that, "As of July 2, none have paid. [Darryl] Latimer said the Department of Water and Sewerage would post notice, giving these commercial customers 10 days to pay before cutting service. But he did not say when."
Like we said, this puzzled us. Last month, the Hits reported that DWSD would hold commercial accounts to the same standard as residents: If customers owe more than $150 or are 60 days past-due, a shut-off notice would be sent. They would then have 10 days to pay the outstanding fee.
By our measurement, it's been almost 90 days since the WDIV segment aired. So what gives? Numerous published reports have showcased the plight of residents faced with the reality of having their water cut — even though they dispute some charges. Why them, but not, say, Detroit's world-class arenas? DWSD has boasted in recent weeks that it took in more than $400,000, thanks to customers paying their past-due bills after having their water shut off. It seems they could've already doubled that number with the substantial commercial accounts.
So we called DWSD spokesperson Gregory Eno, who tried explaining the discrepancy.
"First of all, the commercial accounts that we're talking about here are in dispute with … what they believe they should be paying for stormwater runoff," Eno says. "It's not about traditional water usage like you and I would use, water in our home."
Come again?
Eno says: "We have a number of commercial accounts that are in dispute — well, not a dispute — we say they owe such [an amount], they say" they owe a different figure.
The way DWSD previously presented things to us, it was an all-encompassing statement: You owe $150 or more, you have to pay the bill, or your water gets shut off. But because the corporate accounts dispute a different form of water, they're apparently entitled to contest the fees. Make sense?
"I think the misconception is, I think people think Comerica Park owes money for running water … that's not the case," Eno says. "It has to do with … stormwater runoff or drainage."
It's a situation that appears to date back to last year, when DWSD realized it had not billed about 1,200 commercial accounts for drainages fees, some for several years, according to Crain's Detroit Business.
"This means, of course, that some commercial customers are going to be hit with heavy bills, and that is a fact of life," Bill Johnson, a DWSD spokesperson told Crain's. "These corrections will help make sure that residents using the system are not subsidizing business customers."
Asked if we were relayed incorrect information from the department last month, Eno says that's not the case. "They're being treated in the same way that we're actively pursuing … recipient of payment."
He adds, "We're not just letting them slide. We're still in the process of trying to collect from them."
But it's a dispute over stormwater drainage fees, a "big difference" compared to running the faucet at home, he says.
For critics of the shutoff initiative, those commercial amounts in arrears are a benefit, Eno says. "The folks who are on the other side of this … it serves their purpose well to make this an apples-to-apples comparison," he says.
"It makes for good TV, but it's not true."
The water controversy has, at the very least, managed to generate some interest from those corporate accounts: Last month, a spokesperson for Ilitch Holdings Inc., owner of the Detroit Red Wings who play at Joe Louis Arena, reached out to us to say, "We have always paid our bill; any past outstanding balance was due to misapplied payments."
Even so, DWSD's admission that other commercial accounts operate under a different set of rules than a resident who owes $150 — simply because it's a different fee — was revealing. And it must comfort those who have to reach deep into their pockets this month to ensure the tap still turns on.