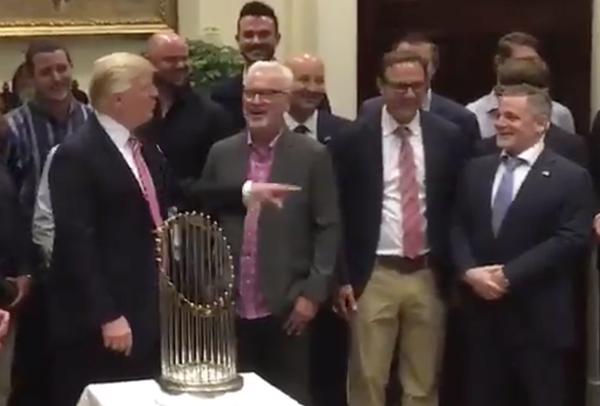 At a White House meet and greet with the Chicago Cubs on Wednesday, President Donald Trump made an unusual request — asking Quicken Loans founder Dan Gilbert to pose in a photo with the group.
Typically, World Series winners schedule a visit to the White House for a formal celebration during the following season, and the Cubs are in town for a series against the Washington Nationals. It isn't clear why Gilbert — who owns the NBA's Cleveland Cavaliers — was present at the meet and greet, but Trump specifically sought him out during the photo op, asking "Where's Dan Gilbert?"
Bloomberg News
White House reporter Jennifer Jacobs posted a clip of the encounter on Twitter. "He's a great friend of mine, a supporter, and a great guy," Trump says of Gilbert in the clip.
"So ask him: How's he's doing with LeBron," Trump asks Cavaliers owner Dan Gilbert.
Says Gilbert is a "great friend" and supporter. pic.twitter.com/N6Wqtiay3A

— Jennifer Jacobs (@JenniferJJacobs) June 28, 2017
The
Chicago Tribune
's Michael A. Memoli
noted
that Trump's summons for Gilbert was an "odd request," and described Gilbert as hesitant to join the photo.
As Gilbert reluctantly joined the group Gary Cohn, Trump's top economic adviser, pointed out it was tough local politics to do so. "I'm trying to protect him," Cohn told the president.
Earlier this year, it was reported that Quicken Loans
donated $750,000
to Trump's record-breaking $107 million inauguration. While Gilbert had not donated to Trump's campaign, he had donated to Republican presidential candidates John Kasich and Chris Christie. He also donated $75,000 to a fundraiser for Hillary Clinton and other Democratic candidates.
Quicken Loans is currently involved in a massive legal battle with the U.S. Department of Justice, which alleges that the company improperly originated and underwrote mortgages insured by the Federal Housing Administration.
"So ask him: How's he's doing with LeBron," Trump asks Cavaliers owner Dan Gilbert.
Says Gilbert is a "great friend" and supporter. pic.twitter.com/N6Wqtiay3A

— Jennifer Jacobs (@JenniferJJacobs) June 28, 2017