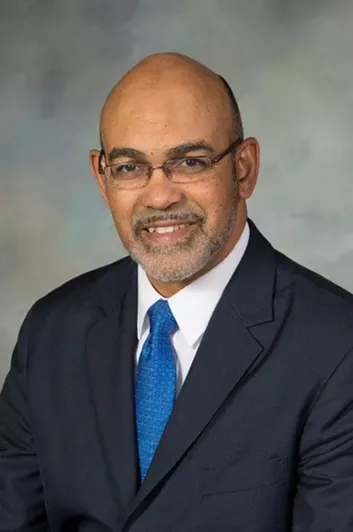 On Tuesday, dueling stories in the
Detroit Free Press
and
The Detroit News
revealed that Wayne County Treasurer Eric Sabree's family purchased tax-foreclosed real estate off the county's tax foreclosure auction.
His family did so in violation of treasurer's office rules, which prohibit family members from purchasing tax-foreclosed property. The county treasurer's office seizes properties from homeowners with late taxes and sells them to the highest bidder, and Wayne County's foreclosure auction is one of the nation's largest.
Beyond that, the Sabree family didn't pay property taxes on many of the properties until they were delinquent, and by the end of 2018 it owed over $60,000.
Sabree's wife recently spent $58,000 to pay off three years of late taxes on more than a dozen properties.
As multiple experts noted in both outlets' stories, the Sabree family activities gave the appearance of insider trading, and raised serious ethical questions. Still, Sabree largely dismissed the story, and while it doesn't appear that the family broke any laws, county executive Warren Evans called for the Wayne County Ethics Board to review the matter.
But just as noteworthy is how Sabree manipulated the local media to weaken the story's impact, and how the
Free Press
took his bait.
The
Free Press
first reported the story at 6:01 a.m. on Tuesday, while
The News
posted its story at 10:31 a.m.
As the
Free Press
notes in its piece, "[Sabree] asked to meet with the
Free Press
after he learned that another news organization was looking into the transactions." We would learn later that morning that the organization in question was the
The News
. That's important because the outlet that breaks a story typically gets the most pageviews, attention, and sets the discussion — it's why journalists are so eager to get a scoop.
But while
Free Press
may have won the battle with
The News
, it's the news-consuming public that lost. The county treasurer, caught in an ethically questionable act, appears to have concocted and successfully carried out a shady plan that involved pitting the city's two daily papers against each other. Ultimately, the
Free Press'
somewhat incomplete story told from Sabree's point of view got more attention — thus, Sabree minimized the damage.
Here's what appears to have happened:
The News
learned sometime around November that Sabree's family was using inside information to purchase homes off the county tax foreclosure auction. It launched an investigation.
Sabree declined to comment on the investigation. Instead, before
The News
could publish its story, he ran to the
Free Press
with the scoop, which allowed him to control the narrative.
That much is evident in the stories' tones.
The News's
story is a solid investigation by a reporter who's holding a public official accountable by presenting robust evidence of ethically questionable dealings. The information is sourced from county documents obtained "through multiple Freedom of Information Act requests."
The News
found "real estate transactions involving Sabree's family overlap his public role, including county sales to relatives and family properties purchased at auction that later racked up enough tax debt that they could have been seized but weren't."
By contrast, the
Free Press's
story reads like a spoon-fed Sabree admission that's full of excuses. For example, he tells the
Free Press
"the deals in question took place while the City of Detroit was facing bankruptcy and few people were investing in the city or Wayne County," as if that makes it OK.
There's also a strong suggestion that the reader should forgive Sabree — he told the
Free Press
that it's "more humane and realistic to recognize" that people have debt and may land in difficult situations. Moreover, most of the
Free Press's
facts are attributed to Sabree, if they're attributed at all. Unsurprisingly, the
Free Press
story is also missing pieces of damming information that Sabree chose to omit.
It was a shady move by Sabree, and the
Free Press's
decision to publish the story makes them complicit in his attempt to save face. Still, the outlet further cashed in on the article with an editorial and a radio appearance by columnist Nancy Kaffer.
The
Free Press
didn't immediately respond to a request for comment.
Here's what you missed if you only read the
Free Press's
story:
Both outlets report that Sabree's family in November 2018 paid off $29,000 in back taxes owed on properties owned by his wife and a company for which he's a listed agent. However, only The News reported a key piece of information: "It was paid 10 days after The News first inquired."
The News also reports that foreclosure rules appear not to have been applied to Sabree's wife in at least one case:

"One of those properties, a vacant west side lot on Wyoming near Marygrove College owned by his wife, escaped foreclosure this year even though it should have been sold at the annual auction, according to state law."
The News then appears to have caught Sabree in a lie and reveals that Sabree's former boss finds Sabree's insider trading to be shady.
"Sabree said he saw 'no reason' to disclose the buys to his then-boss, former Wayne County Treasurer Raymond Wojtowicz. He also said Wojtowicz agreed to allow family members to buy at the auction between 2014 and 2015 but it was never formally adopted.

Wojtowicz told The News that he doesn't remember agreeing to the change and felt the auction ban on staff and family members was important.

"I thought that was the proper thing to do," Wojtowicz said. "The job was to (operate the auction) for the general public. To me, it would have been suspicious because someone would have had an inside track."
The News reported that Sabree's story has shifted. He first said that the rule barring his family from buying properties was "in effect" in 2011. But he later told The News the auction was run by a third-party contractor in 2011, therefore the rule didn't apply.


The News reveals that Eric Sabree's son Adam Sabree appears to be making money off his family's access to the auction:
Sabree's son, Adam, an attorney, was listed as a successful bidder in 2017, pledging $9,600 for an east side brick home on Gallagher near Eight Mile and Ryan roads, according to county records …. Because his father ran the office, the rules banned him from participating as a bidder. But his own delinquent tax debt would have disqualified him as well. He owed the treasurer's office at least $1,500 in back taxes on a property on Waverly in Highland Park at the time.

But Adam Sabree, an attorney, told The News he didn't register in 2017 or bid and that he was just walking a client through the registration process.

"It's probably just an error," Sabree said. "I helped him. I just helped him register."

Even if that's true, then it appears Sabree is making money off of his family's access to the auction.
Both outlets report that Sabree bought properties while he held a previous government position. But only The News clearly articulates that there's a pattern of Sabree's family using his access to acquire property and profit. Sabree's family purchased properties starting in 2008 while he served as Wayne County's chief assistant corporation counsel and led the Wayne County Nuisance Abatement Program.
"As an attorney for Wayne County, Sabree sued a private owner to seize the property on the county's behalf, arguing it was blighted. A year later, his wife purchased it for $500 in the foreclosure auction.

The Sabree family next made money off the same move off a blighted building in Highland Park. Sabree sued, the building's owners didn't respond, and a judge transferred the property to the county. The property was going through tax foreclosure at the same time, and a year later Sabree's wife purchased it off the foreclosure auction. The city demolished the building using taxpayer money, then Sabree's wife flipped the vacant lot to a neighboring mosque for $11,000."

Finally, both outlets note an east side home on Somerset that Sabree's nephew, Charles Humphries, bought in 2012 for $500. He then sold the property to Yusuf Sabree for $1. In 2014, Yusuf Sabree sold the home to a third buyer for $1,500.

But only The News mentions where the home ended up: "Like many auction properties, the taxes weren't paid and it was auctioned off again in 2016."

In other words, the Sabree family is contributing to speculator-driven tax foreclosure cycle that's a major piece of Detroit's blight problem.


Ironically, the Free Press wasn't thrilled when in January 2008, then-Mayor Kwame Kilpatrick used a similar tactic to undermine a blockbuster
Free Press
story that would reveal he and his chief of staff committed perjury. Shortly before the
Free Press
story rolled off the presses, Kilpatrick sent out a press release apologizing for what he had done. As a result, virtually every media organization published or aired the story about the same time the
Free Press
did.
Stay on top of Detroit news and views. Sign up for our weekly issue
newsletter
delivered each Wednesday.