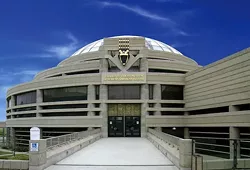 "My legacy was my job," Dr. Charles Howard Wright once remarked. "Everything I did was what I supposed to do."
On what would have been Dr. Wright's 100th birthday today, the legacy of Wright's vision and contributions, have left an indelible mark on the city of Detroit.
Wright was born in Dothan, Alabama on September 20, 1918. Dothan was poor; at the high school that Wright attended, there were only four teachers and no heat or indoor plumbing. Armed only with a dream to become a doctor one day, Wright graduated from high school and college, and then, nearly a decade after he left Dothan, received his medical degree from Meharry Medical School in Nashville.
Wright, an obstetrician
and
gynecologist, became the first African-American physician at Hutzel Hospital in midtown in 1953, where he practiced until his retirement over thirty years later. Wright personally delivered more than 7,000 babies during his career, prompting the museum bearing his namesake to create a repository in its archives to the "Wright Babies."
But Wright envisioned an even grander mission for himself. In 1960, he led the effort to provide funding to train African medical students in America. He provided medical services all across the globe, from a floating hospital in Cartegena, Colombia to civil rights marches in Selma, Alabama and
Bugalusa
, Louisiana.
The artifacts of African-American history that he collected during his travels would blossom into the International Afro-American Museum (IAM), a project that he hoped would educate the next generation that he helped bring into this world. "I'd bring healthy babies into the world and I'd see them later and they'd be psychologically scarred," Wright told the Detroit Free Press in 1997, "I saw we had to do something about society - and the museum was an effort to do that."
Wright's museum grew and grew. In 1997, the museum moved into a 125,000 square-foot, state-of-the-art facility that made it the largest African-American history museum in the world. A year later, the museum was renamed the Charles H. Wright Museum of African American History.
On Saturday, the museum will hold a special centennial celebration of Dr. Wright entitled "A Man For Our Time: The Quiet Warrior." Tickets are $100 and include a cocktail hour and dinner and can be purchased at the museum gift shop or through members of the Friends Committee.
Lucas Maiman is a Metro Times fall editorial intern.

Stay on top of Detroit news and views. Sign up for our weekly issue newsletter delivered each Wednesday.