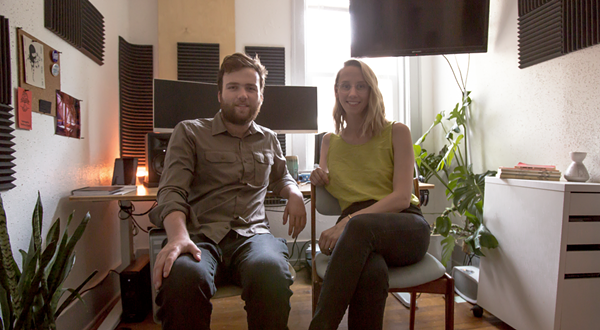 Nick Hayes says it was the reek of plastic chemicals that first made him question what he was doing with his life. It was three years ago, and the stench had permeated a Lansing area plant where he was shooting a commercial.
"I remember thinking that I only had to be there for a few hours but the workers had to come everyday and work in those conditions," says Hayes. "I thought, 'Why am I spending any time trying to help them sell more styrofoam?'"
Then there was last summer's commercial shoot for a beer company. A Los Angeles director had "parachuted" into Detroit, rounded up some local artists, and used their stories to portray an authentic, cool city on the come up, in an effort, ultimately, to align the beer brand with those traits.
"Using people's personal stories to sell alcohol felt like a low," he recalls.
Soon after, Hayes, a socialist and member of the Greater Detroit Chapter of the Democratic Socialists of America, quit doing work he found morally objectionable and started pursuing projects that could help spur the change he wished to see in the world.
His partner, Naomi Burton, would soon take a similar leap. Burton, also a socialist and DSA member, had spent years working in corporate communications, but quit her high-paying job after going through what she's described as a political awakening.
"When you come to that moment of clarity when you just see capitalism as oppressing everything and everyone, standing around the water cooler feels and is kind of devoid of meaning," Burton told us for a February
cover story on the Greater Detroit DSA
.
Since March, the young, idealistic Detroiters have been working full-time to promote progressive causes and candidates through Means of Production, a company they created last year. Their goal is to create high-quality, reasonably priced videos for carefully vetted clients whose views they can accurately portray.
"Working with candidates who genuinely know what it's like to be working class is crucial," says Hayes. "Communicating those values simply can't be done well through a commercial, inequitably structured production company or consulting firm, period. As a cooperatively run production company that explicitly works for labor and progressive campaigns, we're in a position where we speak the language that working people do and can create dignified videos that touch on problems we all face under [capitalism]."
Burton and Hayes hope to benefit from a progressive shift in Democratic politics that has put campaign ethics front and center. It's become common for leftist candidates to
refuse to take corporate contributions
, and now, some are extending their principles to messaging.
Means of Productions' first big client was Bronx activist Alexandria Ocasio-Cortez, a former Bernie Sanders organizer running for Congress in New York against Wall Street-backed incumbent Rep. Joe Crowley. The pair recently created a resonant online campaign video for the candidate, introducing her to voters as a typical working class New Yorker willing to represent the interests of the people in her district rather than those of corporate donors.
It's time for a New York that works for all of us.

On June 26th, we can make it happen - but only if we have the #CourageToChange.

It's time to get to work. Please retweet this video and sign up to knock doors + more at https://t.co/kacKFI9RtI to bring our movement to Congress. pic.twitter.com/aqKMjovEjZ

— Alexandria Ocasio-Cortez (@Ocasio2018) May 30, 2018
"After 20 years of the same representation, we have to ask, who has New York been changing for?," Ocasio-Cortez says in the scripted voiceover. "Every day gets harder for working families like mine to get by. The rent gets higher, health care covers less, and our income stays the same. It's clear that these changes haven't been for us and we deserve a champion. It's time to fight for a New York that working families can afford."
The now-viral video has helped raise the profile of not only the candidate, but Means of Production as well. A piece by the
Intercept
described the video as "tightly produced, crafting a narrative about an organizer-candidate who has the same sort of working-class background that is representative of the majority of New York's 14th Congressional District — the median income in the district is $53,512." The article also zeroed in on the less than $10,000 production budget, which was likely critical for a candidate like Cortez, who, according to
Intercept
, has raised just $200,000 to Crowley's $1.6 million.
Since the release of the ad and the subsequent media attention, Hayes and Burton have been inundated with calls and emails from people requesting their services and filmmakers hoping to help their cause. Though the two are tight-lipped about what's next, they say they're working with several candidates across the country, in Congressional and gubernatorial races. They also plan to launch a leftist entertainment-focused streaming service later this year.
Stay on top of Detroit news and views. Sign up for our weekly issue newsletter delivered each Wednesday.