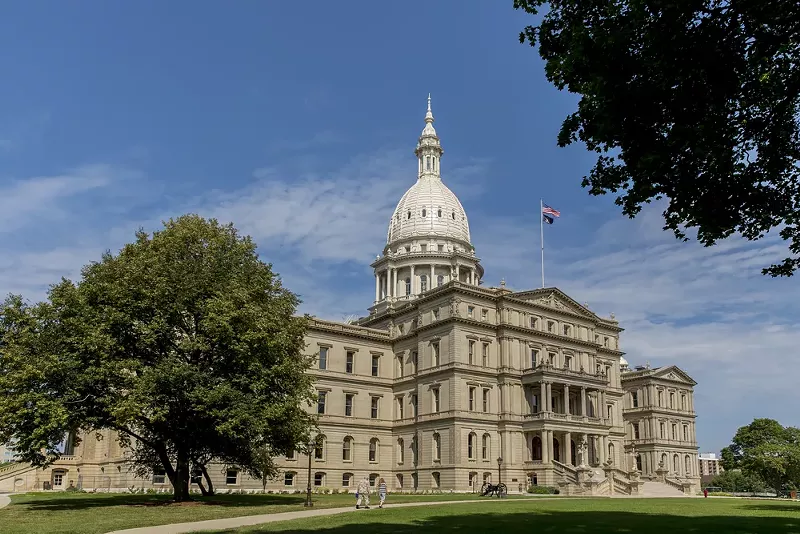 More than 40 local and state officials in Michigan have been deemed "ongoing threats to democracy" by a nonpartisan watchdog group for their role in sowing disinformation about election fraud.
Informing Democracy, a non-partisan, nonprofit organization made up of election professionals, researchers, and lawyers, identified eight local officials in five counties and 33 state lawmakers who have tried to undermine elections.
The officials were named in a new report,
"Democracy Under Threat: A Spotlight on 204 Officials Who Could Undermine Our Elections,"
that was released Monday.
The officials — most of them elected — were involved in anti-democratic activities such as seeking to restrict voting access, attending "Stop the Steal" rallies at the U.S. Capitol and Michigan Capitol, promoting conspiracy theories about election fraud, calling to void votes from the city of Detroit, criticizing the state certification of election results, and calling on then-Vice President to not certify the presidential election.
"In 2022, challenges to our democracy were widespread at the local level and carried out by the people we entrust with the responsibility for administering our elections," Informing Democracy said in introducing its report. "These threats are growing in strength as misguided officials continue to peddle lies about non-existent fraud, probe for vulnerabilities in election law and process, and undermine public confidence about the security of future elections."
The local officials include Wayne County Board of Canvassers Vice Chair Robert Boyd, Wayne County Commissioner Terry Marecki, Muskegon County Commissioners Kim Cyr and Zach Lahring, Kent County Commissioner Tom Antor, Kalamazoo County Commissioner Jeff Heppler, Calhoun County Canvasser Bonnie Kazmar, and Calhoun County Commissioner Steve Frisbie.
All of the officials were either appointed or re-elected after engaging in anti-democratic activities.
The watchdog also identified 33 state lawmakers who were re-elected last year, despite their role in undermining elections. They include Sens. Joseph Bellino, Jonathan Lindsey, Aric Nesbitt, Jim Runestad, Ruth Johnson, Dan Lauwers, Kevin Daley, Roger Victory, Jon Bumstead, Rick Outman, and Michele Hoitenga, and Reps. Jamie Thompson, Dale Zorn, Andrew Fink, Steve Carra, Brad Paquette, Pauline Wendzel, Matt Hall, Rachelle Smit, Ann Bollin, Robert Bezotte, Matt Maddock, Doug Wozniak, Andrew Beeler, Mike Mueller, Angela Rigas, Luke Meerman, Bryan Posthumus, Pat Outman, Curtis Vanderwall, John Roth, Ken Borton, and Gregory Markkanen.
Following the 2020 presidential election in which Joe Biden won by more than 154,000 votes in Michigan,
Republican lawmakers introduced a 39-bill package
that would curtail voting access, impose restrictions on absentee ballots, limit the secretary of state's ability to assist voters, and make it easier for political appointees to overturn elections.
Gov. Gretchen Whitmer, a Democrat, vetoed every election bill passed by the GOP-led House and Senate.
Now Democrats have control of the state House and Senate for the first time in nearly 40 years.
Coming soon: Metro Times Daily newsletter. We'll send you a handful of interesting Detroit stories every morning. Subscribe now to not miss a thing.

Follow us: Google News | NewsBreak | Reddit | Instagram | Facebook | Twitter