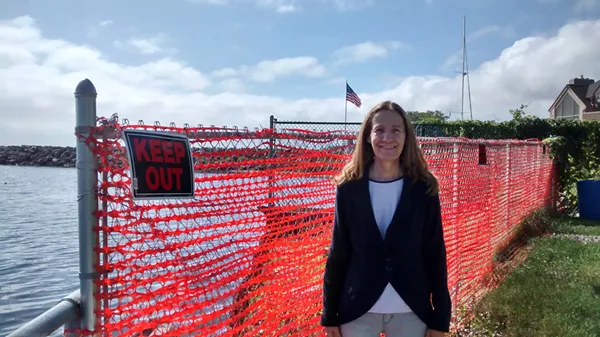 If you were not following the deranged details surrounding Macomb County Clerk Karen Spranger's firing, perhaps the words "fecal worms" will catch you up to speed.

Seven months ago, a judge ruled to remove Spanger from office following a federal whistleblower lawsuit filed by two of her aids after it was revealed that she had lied about her Macomb County residency while filing election paperwork. Now, the plot continues to thicken.

In the deposition transcripts, only now obtained by The Detroit Free Press, Spranger put forth a plan to create more office toilets for staff during building renovations by using fecal-eating worms in place of plumbing. Chief Deputy County Executive Mark Deldin told prosecuting attorney Jennifer Lord during the March hearing that Spranger unveiled the grand plans to "add bathrooms with no cost."
"She was going to give me a business card, which I did not take, of someone that she knew that could come in and talk to me about providing toilets in rooms where she wanted them, and just a hole in the ground, and you place fecal eating worms inside of this hole," Lord said. "No plumbing, and that's how you get more bathrooms."

But there's more.

Other unhinged anecdotes include Spranger's decision to run as a Republican was made by flipping a coin, and that she allegedly showed up to a conference disguised as former clerk Carmella Sabaugh; when caught, she claimed that she was only wearing a wig to determine whether or not she should cut her hair. She was known for aimless diatribes, and as County Corporation Counsel John Schapka testified, would cite her father's "husbandly rights" as to why she and her sister were born in such close succession.

Perhaps the most absurd look into the ousted clerk's behavior also comes from Schapka's testimony, where he detailed a time that Spranger canceled a meeting scheduled for 10 a.m. only to walk into his office a minute later to discuss the meeting she bailed on.

Since her firing, Spranger has filed an appeal and a letter titled "Overthrow of a constitutional public office violation," which was addressed to President Donald Trump, Gov. Rick Snyder, and the FBI in which she pleads for an investigation. The appeal, which has since been dismissed due to her failure to pay a $375 filing fee, was called "gibberish" by Macomb County Sherrif Mark Hackel.

This all follows the December 2017 investigation into Spranger's residency in question, which unearthed video showing that the Warren home she claimed to live in was cluttered and filled with feces.

Before Spranger's appointment, the position of County Clerk in Macomb has been held by a Democrat for 24 years. The county, which is the third largest in the state, shifted colors when 54 percent favored Trump over Hillary Clinton in 2016. This has undoubtedly put pressure on the race to fill Spranger's unfinished term between Democrat Fred Miller, a former state representative who was defeated by Spranger in the 2016 race by a mere 635 votes, and Republican incumbent Linda Sinclair, who has won the support of Hackel despite her poor voting record and legal troubles including driving while under the influence.

A website funded by the Macomb County Democratic Committee,
SinclairIsAnotherSpranger.com, compares the drama left in the wake of Spranger's marred stint to Sinclair's past.

"The chaos caused by disgraced former Clerk Karen Spranger was a dangerous embarrassment. We cannot afford to have another Karen Spranger in charge of our most important personal documents."

Stay on top of Detroit news and views. Sign up for our weekly issue newsletter delivered each Wednesday.