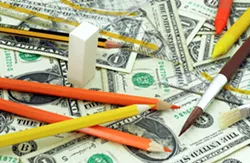 A little over a year ago, talks about legislation to "save" Detroit Public Schools from the insane debt accrued under state control began. Late Wednesday night the conversation came to end as the Michigan senate passed the house's package of Detroit Public Schools related bills. The legislation — which includes a $617 million loan — now heads to Gov. Rick Snyder's desk for approval.
Given the critiques the
house bills
got last week — draconian policies against teachers, limited funding and a deference towards charter schools — the bills were seen as a hard sell. As the
Detroit Free Press
notes, republican leaders in the Senate, House and Snyder met behind closed doors for "back-room negotiations" before the main Detroit education bill passed 19-18.
As Freep reports, notably missing from those discussions were Democratic leaders and Detroit lawmakers.
"You damn cowards to even take up this legislation before us and our community and not even have one Detroiter in the room to help to negotiate this," said State Sen. Morris Hood, D-Detroit. "These are kids I have to look at every day, but you want to make decisions about their life and tell them what kind of life they're going to have. This is the crap you're shoving down their throats. This is going to impact them for years."
Some notable components of the passed legislation include a newly elected school board (the current school board is barred from running), an appointed financial oversight committee reviewing all spending of the school board (EM 2.0?), penalties for striking teachers, the allowance of non-certified individuals to teach in Detroit (and only Detroit), and merit-based pay for new teachers. The legislation also lacks the controversial Detroit Education Commission, a coalition that would oversee the opening and closing of schools in the city. The controversial group earned the ire of charter school advocates, who believe the board — which would have been appointed by Mayor Mike Duggan — would be too politicized and ultimately hinder charter school growth. While some public school advocates have also been critical of the coalition, taking issue with the fact that it lacks democratic accountability, there was also a recognized understanding that oversights need to be in place. Up until the house passed its legislation last week, Snyder too said the DEC was a must. His tune has clearly changed.
"This is a new Detroit Public School district. The debt will be gone. The emergency managers will no longer be needed. Local control will be restored, so that new leaders for the district can be chosen this fall by Detroit voters," he said in a statement.
Still those from Detroit, like Sen. Hood, and many of the state's democrats remain unconvinced.
"Why is it okay to subject Detroit's children to an unequal, unproven model of education," Sen. David Knezek, D-Dearborn Heights told the Detroit Free Press. "This is not about educating the children of Detroit, but you're so desperate and catering to lawmakers (in the House) who are more worried about keeping their jobs in November than educating the children of Detroit.. This arrangement is little more than a stay of execution for the Detroit Public School district."
Those who did not feel upset about the legislation included the state's charter school advocates.
The #DPS legislation offers more accountability: closes poor performers, limits authorizers in #Detroit @ESDet https://t.co/macoJfMkKE

— MAPSA (@MICharters) June 9, 2016
Yep. RT @Rep_Cotter "This is the right plan to save #DPS from itself & give Detroit children a chance at a brighter future." #MichEd #MiLeg

— GLEP (@GLEP_MI) June 9, 2016
Kudos to @MISenate & @MIhouseGOP for putting school children & taxpayers ahead of 4-profit union thugs & big city bosses. #DPS #mileg

— Greg McNeilly (@gregmcneilly) June 9, 2016
And those who have received funding from charter advocates, such as Senate Majority Leader Arlan Meekhof, R-West Olive who helped shepherd in the legislation.
"This represents a realistic compromise for a path to the future," Meekhof told the Free Press. "At the end of the day, our responsibility is to solve the problem. Without legislative action, the Detroit Public Schools would head toward bankruptcy, which would cost billions of dollars and cost every student in every district in Michigan."
Meekhof has received nearly $50,000 from pro-charter supporters ($38,000 from members of the DeVos family and $11,000 from J.C. Huizenga, the owner of one of Michigan's biggest charter school management companies National Heritage Academies).
As we
reported in May
, the DeVos clan has been quietly bankrolling pro-charter, anti-public school education. What we didn't explain at the time is just how long this has been going on. To fully understand the mechanisms behind the legislation going to Snyder's desk, look no further than former Metro Times reporter Curt Guyette's June 1996 cover story (scanned and re-republished
here
), "Born Again Schools: The Right's Vision for Public Education in Michigan."
In this exhaustively researched — and dare we say prophetic — piece, Guyette zeroes in on Gov. John Engler's 1993 introduction of charter schools and the billionaires funding this "school reform" movement. Not surprisingly, many of the names we recognize as big backers of today's legislation (ahem, the DeVos family) were big financial supporters of the charter movement in the 1990s.
Why would these billionaires be so intent on charter school expansion? As Guyette explains it, the four main financial backers of Michigan's charter school movement (the Richard & Helen DeVos Foundation, the Prince Foundation, the Orville and Ruth Merillat Foundation, and the Cook Charitable Foundation) are also supporters of a series of religious issues and groups that advocate for the "christianizing" of American politics. In short, charter schools were a step towards these individuals' ultimate goal of getting public funding for parochial schools. In short, charter schools were a step towards these individuals' ultimate goal of getting public funding for parochial schools.
"To reach that goal, the groups promoting 'school reform' have mounted a relentless attack on the state's education system," Guyette wrote, later adding, "But that alone wouldn't be enough. To galvanize Michigan parents and taxpayers behind the idea of school choice, the reformers needed a Trojan horse that could effectively blur the lines between public and private education: charter schools."
Anyway,
go read
Curt's piece, then come back and review the legislation going to Snyder's desk, then pour yourself a drink. It's five p.m. somewhere, right?