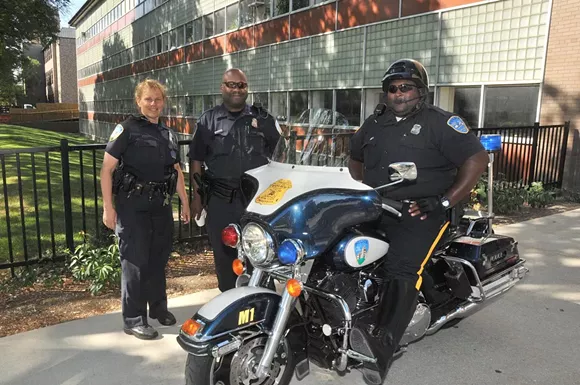 When I was living in Midtown ten years ago, it was a known secret: in case of emergency, don't bother with 911. Instead, call 577-2222 — the number for Wayne State Police Department.
Even though I and most of my friends didn't attend WSU, we knew we'd have better luck calling Wayne State University's security than the beleaguered Detroit Police Department.
The security department's presence as Midtown's de facto police would become formalized in 2008 with the formation of the Midtown Compstat — a high-tech collaboration between the WSU police, the DPD, and the WSU Center for Urban Studies, and neighborhood development non-profit Midtown Detroit Inc. — that expanded the range of the WSU to cover a four-square-mile area outside of the campus.
The Detroit News
today offers a look
at the numbers
behind the arrangement. Since it formed, WSU police has led to a 54 decrease in crime and a 68 percent drop in robberies. WSU police typically arrive within 90 seconds of an emergency call, and within four minutes for non-emergencies. (DPD's average response time is 14.5 minutes. The national average is 5-6 minutes. DPD responds to 3,000 calls daily. WSU respond to 120.)
As a similar
New York Times
story
reported
in 2015, of the 1,362 arrests made in Midtown in 2014, 61 percent were made by Wayne State's officers. It also reported that Wayne State's video surveillance system is "among the most extensive in Michigan," with 850 cameras tracking locations beyond the school's campus.
And this increased police presence has been attributed to the boom in the neighborhood in recent years. "People won't move somewhere they don't feel safe," Wayne State's chief of staff, Michael G. Wright, told the
NYT
. "We recognized that if Detroit was going to experience an economic comeback — particularly in Midtown, our neighborhood — this was a big issue."
However, there are concerns that the police force in Midtown could be overzealous in its reach.
Last month, WSU officer Collin Rose was shot in the head while doing follow-up work in the nearby Woodbridge neighborhood — the first time one of its officers had been killed in duty since the department formed in 1966. Police initially arrested a homeless and mentally and physically impaired African-American man named DeAngelo Davis as the prime suspect. He was released less than two weeks later after footage showed him at a nearby business at the time of the shooting.
"No citizen deserves to be picked up just because they're in the area, appear to be homeless or crippled," Sandra Hines of the Coalition Against Police Brutality
told MT earlier this month
. "I think they thought Mr. Davis was just a nobody, and that there would be no repercussions for what they did. Now that we find he's not implicated, and had nothing to do with it, we can see there was a rush to judgment."