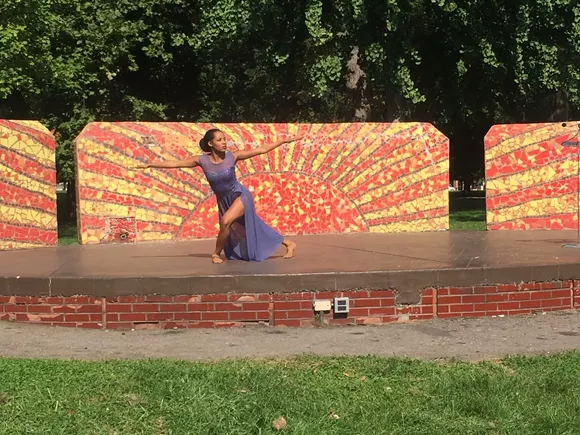 The first Open Streets event in Detroit — which will close thoroughfares to automobile traffic from downtown to the city's Southwest side and open them to bicyclists and pedestrians — is 12 days away.
As part of an international movement to reimagine public spaces by closing streets to car traffic, Open Streets aims to bring healthy, physical activities to the same spaces where people normally commute in their cars.


The route for the Sept. 25 and Oct. 2 events begins in Campus Martius and extends to West Vernor Highway. Participants are invited to bicycle, rollerblade, skateboard, or walk at their own leisure from noon to 5 p.m.
Downtown Detroit Partnership CEO Eric Larson said Open Streets is the first event of its kind in the city.
"It is also important to understand the significance of this as we step towards a much more expanded view of alternative mobility," Larson said during a Tuesday press conference in Clark Park, where Open Streets' 70 sponsors were announced.
"The Downtown Detroit Partnership is very focused on the infrastructure planning that will allow for … different types of mobility to take place throughout the city," Larson said.
Lisa Nuszkowski, the executive director of the Detroit Bike Share and affiliate of the Downtown Detroit Partnership, spoke about her hopes for Open Streets, which she has been planning for more than a year. In 2015, Nuszkowski attended a workshop highlighting the importance of open streets in community building, and spent a year planning the event.
"I hope it gives people an opportunity to reimagine a space that we don't think a lot about but that we spend a lot of our time in … so this isn't about cars against people against bikes, it is about how do we accommodate not only cars, public transportation, but also cyclists and walkers," Nuszkowski said.
The Detroit-Windsor Dance Academy, a collaborator for the event, showcased two dancers at Clark Park, with Amber Moore and Ryan Harvey performing solo dances that they individually choreographed. The academy is hosting workshops during Open Streets.


Dai Hughes, owner of the Corktown coffee shop and Open Streets sponsor Astro Coffee, said the event highlights the importance of transportation for Detroit businesses.
"This will draw awareness to how important [it] is have serendipity in our lives — that we can cross a street [or] walk for several blocks," Hughes said. "We kind of lose the romance that you might expect in New York City or Paris, to just stumble into boutiques or meet people randomly in public spaces such as Clark Park."
Hughes said Open Streets will allow visitors to experience his coffee shop in a way they never have before.
"The moment you get out of your car, you are a pedestrian yourself, so this issue is about all of us," Hughes said.
For more information, visit openstreetsdet.org.