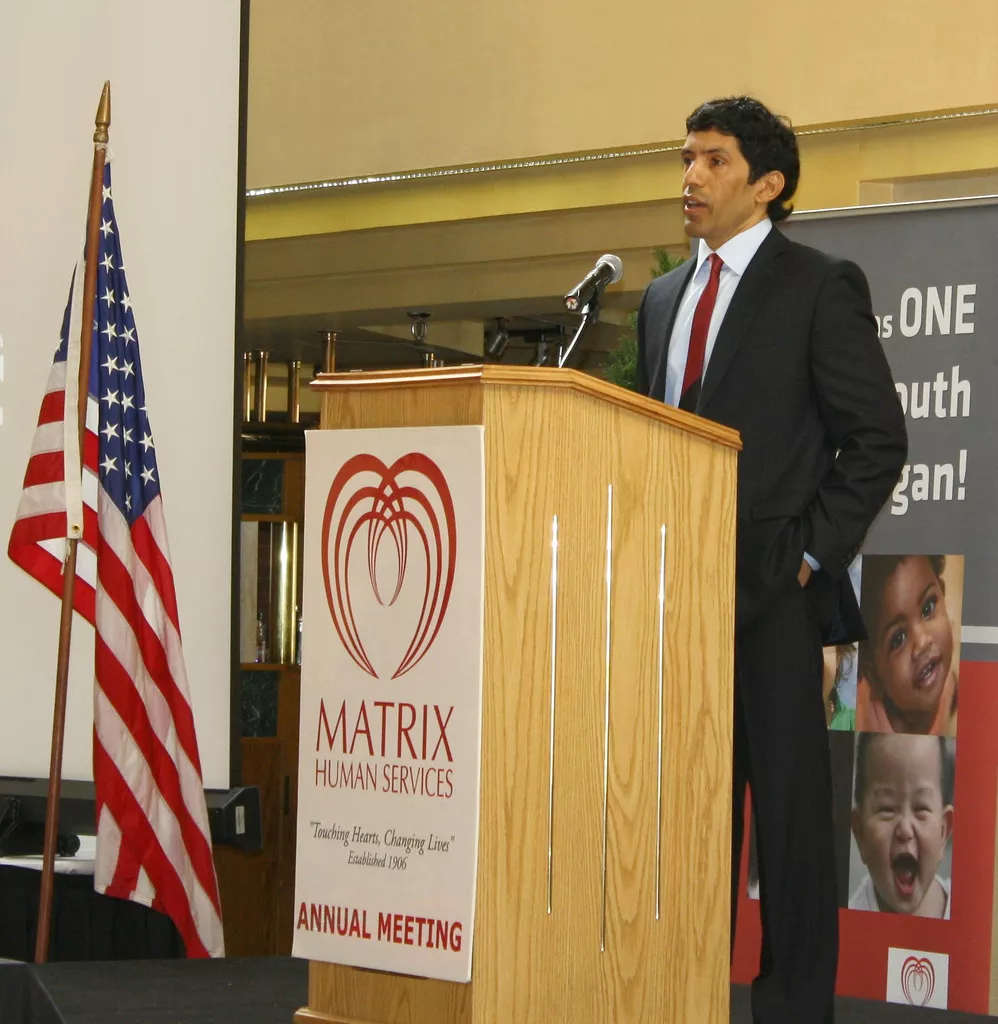 Having dinner with Hansen Clarke, the freshman congressman from the east side of Detroit, is somewhat of a unique experience.
For one thing, you have to keep reminding him to eat. Clarke is so boyishly enthusiastic about what he is doing, and filled with so many ideas, that he forgets about the food in front of him.
Choi Palms-Cohen, his stunning Korean-American wife, sighs that he is much the same about sleep. Yes, he has a hotel room in Washington, but he's been known to sleep in the office.
He is full of ideas — surprisingly fresh, new and intriguing ideas — and full of energy. "Not because I'm in Congress. I probably shouldn't say this, but I'm not in love with being a congressman. I'm in love with the chance to do something for people."
Last year, Clarke, a term-limited state senator, took on Carolyn Cheeks-Kilpatrick, mother of the convicted criminal also known as Detroit's former mayor, and beat her in a hard-fought primary. What was most interesting was that Clarke didn't run by bashing the former mayor. He never even mentioned Kwame Kilpatrick's name. He thinks he won for some of the same reasons other people voted for Tea Party candidates last fall: They wanted something new. They were tired of politicians doing business as usual.
And Hansen Clarke certainly isn't "as usual." Nor have the trappings of power gone to his head. When CCK represented the east side of Detroit in Congress, she leased, at taxpayer expense, an expensive Chevy Tahoe to tool around in when she was home.
Never mind that she represented one of the smallest and most impoverished districts in the nation. Clarke rented instead a wheelchair-equipped van, and put it at the disposal of the district's seniors. Home on weekends, he drives his own aging Ford Taurus.
Congress has been an education. After he won the election last fall, some members of his state staff expressed interest in working for him in Washington. "I told them, you guys are great, but they tell me I need experienced Washington staffers."
What he found out, however, is that "what experienced staffers mostly know how to do is tell you why you shouldn't do something and why you can't do something," he said, laughing.
That was the case last month, when the freshman congressman noticed that the new Homeland Security budget was going to forbid the government from providing any new funds for Detroit.
That was crazy. Not only is Detroit on an international border, but it is also the nation's most economically important border crossing. But the administration was going to forbid the Department of Homeland Security from giving any money to any but the 10 biggest cities.
"I was told, don't try to amend this. You'll anger the leadership," Clarke said, finally taking a bite of his Greek salad. He ignored that, and ran around on the floor buttonholing startled members — including a fair number of Tea Party supporters.
Did they know this would make their towns ineligible too? Before long, members were switching their votes by the dozen, and Detroit had its funding restored.
Right now, Clarke's biggest priority is jobs. He is putting together a bill that would have a blockbuster effect, if passed. He wants the government to collect all the federal personal and corporate income taxes Detroiters pay — and set it aside to improve the city.
Additionally, Detroit would have to agree to cancel all city income tax payments for residents. That may sound revolutionary and a long shot, but the congressman strongly believes that would help rebuild the city and, at the same time, attract people and businesses to it.
He thinks Republicans as well as Democrats should like the idea. "You know, even if it doesn't pass, that's not the most important thing," he told me. "What matters is making the effort, getting people talking about it." That drive is what keeps Clarke, who is 54, running around with the intensity of a 24-year-old athlete.
I asked if he thought what was happening now was the biggest crisis of our lifetime. He said, "No, but we should act as if it were."
He knows some think he is trying to spread himself too thin. When somebody told him writing a bill often takes a year or more, he exclaimed, "I don't have a year." Neither does Detroit.
The fact that Clarke is in Congress at all is a bit amazing. His father was an undocumented Muslim immigrant from Bangladesh who died when Hansen was a little boy. His late mother was a school crossing guard who sent him to Cornell University with illegal gambling winnings. There, he studied not politics, but art. He became a Roman Catholic, almost became a priest, and married for the first time four years ago, after one date. When someone asked him how he wanted to be remembered, he said he hoped he wouldn't be.
What he wants, he said, is a world that isn't constantly in economic crisis, one where he no longer feels he needs to be in Congress. When and if that happens, Clarke intends to return to painting — his canvases remind one of a blend of Picasso and Miró.
Somehow, I don't think he's going to have any leisure anytime soon. Detroit may be lucky indeed to have a legislative artist representing us in Washington's increasingly surreal atmosphere.
Newspaper atrocity: For years, perhaps the best local papers in this part of the world have been the Heritage Newspaper Group. The flagship paper is the twice-weekly News-Herald, which covers the Downriver area, but also includes weeklies in a number of communities in Wayne and Washtenaw counties, including Dearborn, Chelsea, Dexter, Saline, Manchester and Grosse Ile.
These are hard times for all newspapers, but the Heritage papers had the extreme misfortune a few years ago to be acquired by the world's worst owners, the Pennsylvania-based Journal-Register Company, aka JRC, which prefers cheap over quality, every time.
Five years ago, they converted the Oakland Press from a better-than-average medium-sized daily into a joke, firing the senior editors and laying off most of the staff.
JRC later went bankrupt, and was acquired by something called Alden Global Capital last month.
"This is a great vote of confidence in our strategy," JRC head John Paton said, sucking up to his new masters, adding that he wanted to "personally thank our employees for their efforts during this turnaround."
Veteran corporation watchers know statements like that mean the gas chambers are gearing up. Sure enough, last week JRC got rid of the best talent at Heritage, firing longtime managing editor Karl Ziomek, features editor and environmental expert Paula Evans Neuman and photo editor Larry Caruso, among others.
This was clearly not done for any reason other than to dump some of the higher salaries, not that any of these folks were making very much. One shocked staffer told me that when they e-mailed complaints to JRC management, their ability to do so was disabled.
Henceforth, staffers were told, they'd report to Glenn Gilbert, the small-time Ohio editor who has been running the Oakland Press since JRC brought him in to fire the senior editors five years ago.
Apparently he is supposed to supervise Heritage from Pontiac, which ought to be perceived as the insult it is. The Heritage papers have been an important part of the Downriver community for decades. If I were a politician, citizen or business owner there, I would let these out-of-state merchants of greed know how I felt.