The Detroit News
has an interesting story this morning about current battles over "Line 5" — an aging oil pipeline owned by Canadian giant Enbridge Inc. and situated under the Great Lakes. As protesters get more vocal about the environmental fears the pipeline represents, Enbridge is fighting back with a number of community-engaging gatherings and the touting of a positive study. But not all are too convinced of the study's validity and neutrality.
Let's dive in.
This month, environmentalists protesting the 63-year old underwater oil pipeline are walking the length of "Line 5," hoping to draw attention to what they believe to be a cataclysmic environmental disaster in the making. When the pipeline was built in 1953, its engineers predicted that it would last 50 years. We're 13 years past that, and activists fear an oil spill — and the pollution that comes with it — is in the cards.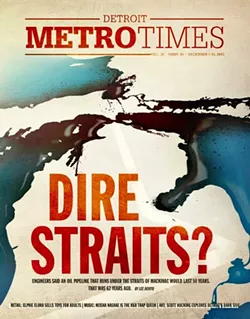 As former
Metro Times
reporter Lee DeVito explained in his
December feature
on the fight to shut down Line 5, while pipelines are typically seen as a safer and more effective method for transporting petroleum than, say, tankers or railroads, Enbridge's pipline safety record is far from perfect, and fears hit close to home.
"Enbridge has had many spills already," writes DeVito. "Between 1999 and 2010, Enbridge was responsible for more than 800." DeVito later added, "On July, 25, 2010, Line 6B — another pipeline, which routes oil from a Chicago-area node south around Lake Michigan and toward Sarnia — ruptured near Marshall, Mich. The spill resulted in nearly 20,000 barrels — 840,000 gallons — of heavy crude oil flowing into Talmadge Creek, which made its way into the Kalamazoo River."
Kalamazoo has becomes something of a rallying cry for the protestors, but Enbridge is not one to go away without a fight. As the protesters snake their way across the Mackinac Straits, the Alberta-based oil transportation conglomerate is on the defensive.
Launching a series of community barbecues and gatherings in Northern Michigan, the petroleum company plans to preach the benefits and safety of the pipeline in the coming weeks, according to the
Detroit News
.
In their arsenal of positive-PR-gizmos is a recent study, commissioned by the federal pipeline safety regulator, that purports the aging pipeline has shown no signs of internal or external deterioration. While the study helps Enbridge make its case, not all are too convinced.
According to
The
Detroit News,
all of the data found in the study was provided by Enbridge and its contractors, leading some to believe the report might be a teensy-weensy bit biased.
"'Trust us' no longer works, especially from the same company responsible for the largest in-land oil spill in U.S. history," Lon Johnson, a former Michigan Democratic Party chairman from Kalkaska who has been adamant about shutting down Line 5, told the
News.
"We need an independent verification that this pipeline is 100 percent safe."
The regulatory framework is also less than encouraging. As the Sierra Club's Michigan chair David Holtz told DeVito, he attended the first public meeting of the state-appointed pipeline safety advisory board on Oct. 28, 2015, and said, "This is not a group of people who you will expect will do anything that isn't through the lens of what Enbridge's interests are." Holtz pointed out that board members include Enbridge's Brad Shamla, vice president of U.S. operations, and Craig Pierson, president of Marathon Pipe Line LLC.
Holtz thinks it would be better if the state commissioned an independent study to look at alternatives. As things stand, Holtz says, it's "the fox watching the henhouse. ... It doesn't give you a lot of confidence in what the result is going to be."