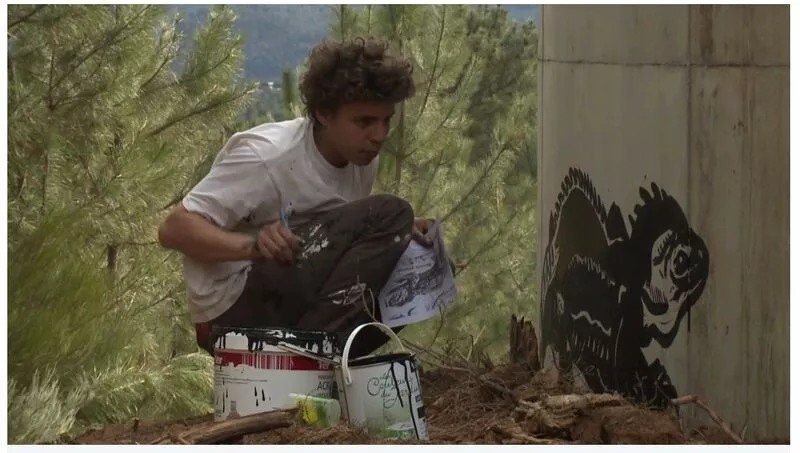 A tribute documentary for a 23-year-old French street artist who was killed during a stay in Detroit in 2013 is complete and will begin showing in select theaters next month.
Bilal Berreni, AKA Zoo Project, had been living in Detroit for several months when he was shot by a gang of teens who dumped his body at the Brewster Projects. A sign bearing the title of the documentary,
C'est Assez Bien Detre Fou
, appears to have recently been posted near where his body was found.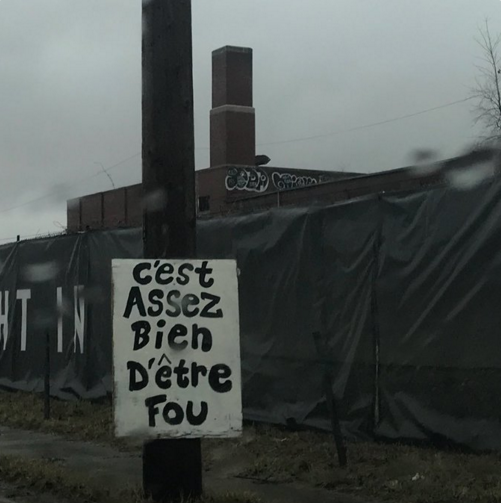 The film, whose title translates to
It's Quite Good Being Crazy
, includes video footage from a road trip the globe-trotting artist took with the documentary's director, Antoine Page. According to the
website for the film
, the journey lasted several months, taking the pair all the way from eastern Europe to Russia's eastern border, near North Korea.
Berreni's travels took him to Detroit's Capitol Park in 2012, where he lived in the old
Adult Contemporary
venue at 1217 Griswold on and off for more than a year. He was robbed and killed in July 2013 by a group of teens who reportedly used the money to buy weed and junk food. It would be months before police
identified Berreni
as a Parisian artist whose father was a millionaire and brother a French soap opera star.
"He was like that weird, I'll hang out with you for a moment under my own conditions and then just be gone and then eventually come back," Brovold says. "But it was always really cool when he was around."
Brovold and his friends invited Berreni to move in after a mutual friend found him sitting in Capitol Park with his belongings in 2012. He'd apparently been living in a tent on the roof of the Farwell, an eight-story tall building nearby. Brovold remembers Berreni learning English through rap music and hanging out at Wayne State University's Kresge Library, where he would try to pick up girls studying French.
Brovold suffered through the whole ordeal of Berreni's killing. He searched for him in the months he was missing and testified at the trial of his killers. With the tragedy now four years in the rearview mirror, Brovold says he's looking forward to a proper reflection on Berreni's life.
"It's a chance to look at his life on its own as opposed to looking at Billy's life with death in the back of my mind," he says of the documentary.
The 1 hour and 45 minute-long film is due out in select theaters on March 28, and we've reached out to the promoters to see if it will play in Detroit. A
DVD set
is available for purchase for 25 Euros, or about $31.
You can check out the trailer for the movie below.