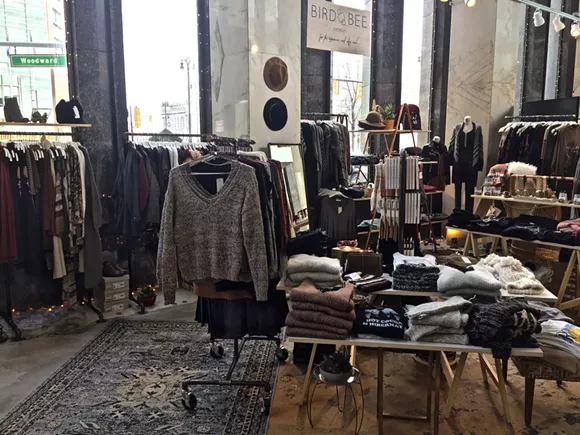 Metro Times'
relationship with The Albert, a Capitol Park building consisting of rehabbed lofts and retail spaces, has been a contentious one. We were kinda pissed when they released this
callous advertisement
that essentially spat upon the building's previous tenants, seniors and disabled people who were kicked out in to help make the building's facelift a possibility.
Then, just a few weeks ago, Bad Luck Bar opened inside the building, shilling $80 cocktails. Lord only knows whose buying those drinks, but it isn't your typical Detroiter.
The building's also home to Dessert Oasis Coffee Roasters and
Detroit Bikes
. Go! Sy Thai, City Bark, and
La Lanterna are set to open in 2017.

Now, Broder & Sachse Real Estate, Inc., the real estate company that runs the Albert has announced that a start up clothing company will soon open inside the building.
Bird Bee is an unmistakably hipster woman's clothing company that sells Forever 21-style clothing, which would be fine expect they seem hellbent on keeping on featuring solely white models on their website, which is a shame, considering Detroit's like, what, 83 percent black?
They sell things like rompers, satin bomber jackets, bun pins, and chokers, which is all stuff that would look great on black girls too. So, we're pretty bummed that this Detroit-based startup seems to be ignoring a huge part of the population.
According to a press release, Bird Bee owner Taylor Bolleber opened the business in November 2015, "with sales limited to online and in-person pop-up events or markets. The 1,600-square-foot retail space in The Albert will be the boutique's flagship brick-and-mortar location. Bird Bee showcases a unique West-Coast-meets-Midwest fusion, selling clothing, accessories and jewelry for women of all ages who want to express themselves through fashion."
So, for women of all ages, but what about of all colors?
In the release Bolleber said, "The Albert has the charm and history I was looking for, and downtown Detroit is the best place for Bird Bee to thrive in the years ahead. With our storefront in The Albert, Bird Bee will be in the heart of new developments and the next wave of people living downtown, allowing us to target those who prioritize an original sense of style."
Interesting.