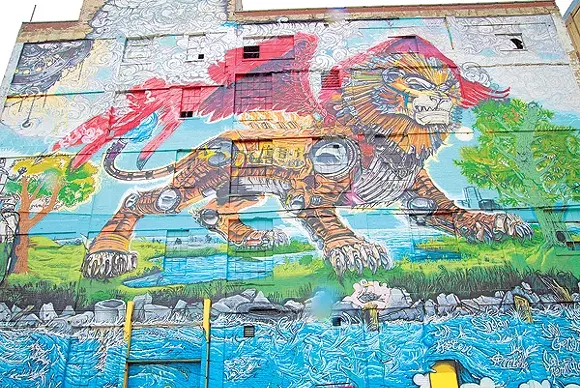 The largest artist community in the Midwest was effectively shut down on Monday when tenants of Detroit's Russell Industrial Center were ordered to vacate the premises.
According to a notice shared with
Metro Times,
Detroit's Building, Safety Engineering and Environmental Department determined the complex to be in violation of city code and ordered all tenants to discontinue use until the violations have been corrected.
Several tenants who spoke with
Metro Times
said the Russell Industrial Center's office didn't have any answers on Monday, and advised the tenants to contact the city's building department.
"The Russell management seemed caught off guard, and we're trying to get in touch with their lawyers," says Chris Reilly, a professor at Eastern Michigan University's School of Art & Design who moved into a space with four other artists in January. "As far as I know no tenants were notified of anything prior to this afternoon." According to Reilly, the complex was inspected earlier this month, but the tenants never received any feedback.
Reilly says he tried calling the building department number provided on the notice several times to no avail. Once he was hung up on, and another went to a full voicemail box.
Earlier this month, the Russell Industrial Center was the subject of a WDIV
"Local 4 Defenders" investigation
that noted the sprawling complex had failed inspections in August and October. There were at least three reported fires on the premises in 2016, including one that was started because of an electrical failure.
A Dec. 9 Detroit Fire Department inspection found 25 failures, including poor maintenance of sprinkler systems, combustible waste, and obstructed exits. WDIV reported that when they visited the complex undercover they found sprinkler heads covered with bags, overflowing dumpsters, and wooden walls that could be fire hazards.
Concerns about possible safety violations followed
the deadly fire at the Ghost Ship art space in Oakland, Calif.
last year. At the time of its investigation, WDIV reported that the Russell Industrial Center had 184 tenants. Over the past two weekends, the complex hosted the annual Dirty Show exhibition, which draws nearly 10,000 visitors.
An operations manager at the Russell says the city has gone overboard by forcing the complex to shut down.
"We've had fire inspectors in here before, building inspectors in here before, and so to suddenly come in and say you're not in compliance and vacate us, it's mind boggling," Russell spokesman Eric Novack says. "And it's all stuff that we can remedy while we're open."
Metro Times
reached out to the city of Detroit for comment. This post will be updated when they respond.
Read the notice below: