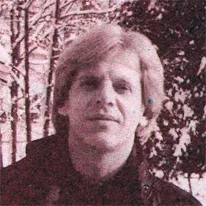 It's a very sad day for all fans of music and lovers of Detroit and Detroit music. My friend (and mentor in some ways) Ben Edmonds passed away Friday. He was a brilliant writer and rock 'n' roll historian. Among his many journalistic accomplishments, he wrote for the Detroit dailies and the Metro Times after a long career editing at and writing for Creem, Rolling Stone, Mojo, Circus, Fusion, NME, Harp, Sounds, Uncut and many other international publications of note. He also wrote the definitive book on the making of Marvin Gaye's "What's Going On" for Mojo as well as other book projects and liner notes for various box sets.
There will be obits in the papers and elsewhere (written by his many other friends and colleagues) that get all the facts about his life in order. This is not an obit; it's the recollection of a friend and colleague I loved and admired. Ben came to Detroit from Boston in 1969 after meeting the MC5 at Max's Kansas City in Manhattan and wanted to be wherever they were from, such was their wild appeal and sense of freedom. The band became a lifelong focus and lodestar to him; he had a long book on the 5 in various forms of completion when he died, as well as a book on the '60s songwriter Tim Hardin. I suspect we'll all do everything we can to now get those projects completed — it was important to Ben.
When the "What's Going On" book came out, I bought 20 copies that Christmas and gave them to my band and friends. I was blown away by the writing, research, and analysis Ben filled that little book with; it was almost everything you needed to know about Motown, soul music, Marvin, recording, the Funk Brothers, and true artistic passion and realization. So I gave away as many as I could afford to as many people I thought would appreciate it.
When I was much younger, in 1991 or '92 if I recall correctly, the great MC5 singer Rob Tyner passed away. A committee quickly formed to plan a tribute concert to Rob and a fundraiser to raise some dough for his children's education. Ben was in charge, and it was made up primarily of 60s and early 70s folks — people his age. They were older than me, and people I had grown up reading and enjoying. So it was a group of people I really admired and was slightly intimidated by. Out of the blue, Ben made me co-chairman of the event along with him, and really gave the young me a shot of confidence and continual suggestions on how to improve my own writing and songwriting. He could be very critical and to the point — very valuable when you're learning, because you need both a thick skin in this game and someone older who believes in you a bit. He eventually reviewed my own records favorably, but always with ways I could improve and just be better. He knew the business from all sides, having been a journalist and successful A&R man at Capitol and other labels. In fact, he discovered and signed the great Willie DeVille to Capitol and talked Jack Nitzsche out of semi-retirement to produce his debut. He just understood music, and could recognize truly original and seminal bands and artists well before the world did.
We consequently struck up a friendship in the early 90s that lasted until Thursday. I went down to Ben's house to visit with him, knowing he was very sick with late stage cancer and very much nearing his end. Each time I spoke with him by phone or saw him, he was slightly weaker and slower than before. He had first called me with his diagnosis last year, and at first we were very encouraged by the way he responded to treatment.
We had a nice talk about David Bowie and Lou Reed and a few other things in music, before his wonderful and devoted friend and housemate Mary came in, and then we talked about our mutual love of "Law & Order"! I don't think there was a cultural subject Ben didn't know a little something about, with an informed opinion of why it worked or did not work. A couple weeks ago, Ben had given me a gorgeous small poster — his memorabilia and rock 'n' roll record collection was vast and amazing —promoting David Bowie's first show ever in Detroit. At the Fisher Theatre, of all places. Very early 70s. He knew how much I dug Bowie and saved it for me — a beautiful and profound gift given our circumstances.
Before I left, he gave me a Velvet Underground box set because we'd been talking about Lou Reed quite a bit lately. Very moving, of course, and a very difficult goodbye, because you never know real prognosis with cancer patients. Getting up to leave, I told him I loved him and he said likewise, and Mary walked me out. So, it's somewhat comforting to know that the last thing Ben talked about was music, which he had devoted his life to and understood and loved far more than nearly anyone else I've ever known. Mary and I talked on the porch about his need for an alert device, as he had fallen a couple nights earlier, and she needed to know if he was out of bed or needed help.
On Friday morning, I went and bought the little alert thing, and came home. There was immediately a message for me that Ben had died. I was somewhat shocked, because I thought there was a little more time, and I think he wanted just a little bit more time. But mostly I'm very sad, and feel how fragile we are and how fleeting this is, and I will come to terms with not being able to check in and talk with him. However, he left so much wonderful evidence of how he lived, and what he valued, and what and who he loved. A very good life, never long enough.


Stewart Francke is an award-winning musician and former contributing editor at
Metro Times.