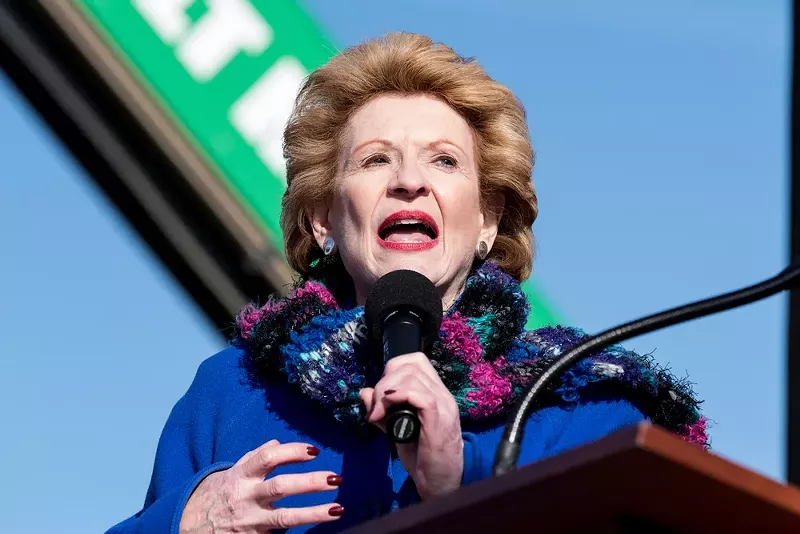 U.S. Sen. Debbie Stabenow, the first woman to be elected to the chamber from Michigan in 2000, announced Thursday she will not run for reelection, opening a battleground seat in 2024.
The four-term senator is the No. 3 Democratic leader and chairs the Senate Agriculture Committee.
Stabenow, who is 74, had previously said she planned to run for reelection.
The Lansing Democrat did not give an exact reason for her decision, but said she was "inspired by a new generation of leaders" and wanted more time to spend with her family, including her 96-year-old mother.
"I am 'Made in Michigan,'" Stabenow said in a statement. "My work is deeply rooted in my love of our wonderful state. Whether protecting our Great Lakes, transforming mental health services, or ensuring our state can continue to make things and grow things to be competitive in our world economy, I am proud that my accomplishments have made a difference in people's lives and created a strong foundation for a healthy and prosperous future for our state."
Her retirement is certain to set the stage for hotly contested primary battles in 2024. Her term expires on Jan. 3, 2025.
In her last reelection bid in 2018, Stabenow defeated Republican businessman John James, who eventually won a seat in the U.S. House in November.
Gov. Gretchen Whitmer said Stabenow was a champion for Michigan causes.
"As the first woman elected to represent Michigan in the U.S. Senate, she's been leading the fight for working families, the auto industry, and farmers for a lifetime in Michigan and for Michigan in Washington, DC," Whitmer said. "She continues to stand up for workers' rights and expand paths to good-paying jobs in the trades, bring manufacturing and supply chains home to Michigan, and work across the aisle as Chair of the Senate Agriculture Committee to deliver record, bipartisan farm bills."
Lt. Gov. Garlin Gilchrist called Stabenow "a trailblazer, history-maker, champion for Michigan, and friend."
"In her advocacy on mental health, making Michigan the best place to make and grow things, and protecting our natural resources, she has done so much to build a state we can be proud to pass on to our kids," Gilchrist said. "I am grateful for Senator Stabenow's friendship and leadership. Let's build on her legacy and continue working together to make a difference for Michiganders in every community."
U.S. Rep. Debbie Dingell, D-Ann Arbor, who considered running for the Senate in 2014 when Carl Levin stepped down, said Stabenow's "legacy will live on in the Senate and in our state."
"For more than two decades, Senator Stabenow has selflessly committed herself to bettering Michigan and our country," Dingell said. "She has been a partner in so much important work – from supporting our auto workers and industry, to fighting for women and children, to improving resources and services for our veterans, and so much more."
Michigan Democratic Party Chair Lavora Barnes said Democrats will be ready to defend the seat.
"Our work together is far from over," Barnes said. "I know Sen. Stabenow's support will remain unwavering and that she is deeply committed to keeping this seat blue. The strength of the Democratic Party in Michigan has reached new heights and we have full confidence in our ability to defend this seat."
Michigan AFL-CIO President Ron Bieber credited Stabenow for "breaking barriers and making history in the U.S. Senate."
"She shattered the glass ceiling for Michigan women by not only serving as the first Michigan woman elected to the U.S. Senate, but by also rising to be the No. 3 Democrat in Senate leadership," Bieber said. "Working folks in Michigan and across the country have been positively impacted by her achievements in her time in public service. In her historically productive career in the U.S. Senate, Debbie never wavers from her core values and always puts Michigan's working families first. She's a true leader and an even greater friend."
It's too early to say who plans to run for Stabenow's seat.
Coming soon: Metro Times Daily newsletter. We'll send you a handful of interesting Detroit stories every morning. Subscribe now to not miss a thing.

Follow us: Google News | NewsBreak | Reddit | Instagram | Facebook | Twitter