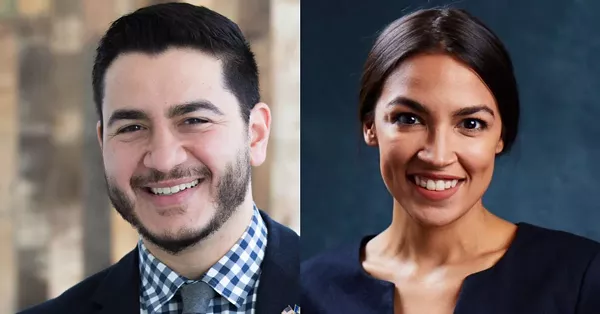 When democratic socialist firebrand Alexandria Ocasio-Cortez beat Wall Street-backed incumbent Rep. Joe Crowley in the primary for New York's 14th Congressional District last week, it was an upset of historic proportions.
A poll
conducted a couple of weeks before the election reportedly showed the novice candidate losing to the 10-term Congressman by 35 percentage points. Instead, running on a platform that included single-payer health care and the abolition of ICE, she won by 15.
Now, Ocasio-Cortez has lent her voice to a race with similar dynamics, endorsing Michigan Democrat gubernatorial candidate Abdul El-Sayed, the 33-year-old former health director for Detroit.
"I believe a politics of working hard for economic, social, and racial justice can succeed anywhere in America," Ocasio-Cortez says in a media release. "Michigan is blessed to have Abdul El-Sayed as a candidate for Governor, and I am proud to support him."
El-Sayed has a policy agenda unlike any that Michigan has ever seen — at least, not from a major candidate in a statewide race. His broad-based fight against inequality includes free basic water service for households and the creation of a state-level single-payer health care system that guarantees all Michiganders coverage free of premiums or co-pays. And, like Ocasio-Cortez, he's not taking any corporate contributions.
He's also
down by more than 20 points
in a three-way race against front-runner and former state Senate Minority Leader Gretchen Whitmer and progressive Shri Thanedar. But it's a big improvement from where he was — El-Sayed was polling in the
single digits
until Thanedar, his better-known opponent on the left flank, became dogged by media reports that
questioned his authenticity
as a leftist candidate and that brought to light allegations that his company
abandoned nearly 200 animals
outside a lab that went bust.
Undeterred by El-Sayed's initially poor showing in polls, progressive and other groups have lined up to support him since early on in the race. To date, El-Sayed's backers include:
- The People for Bernie Sanders
- Our Revolution
- Our Revolution President Nina Turner
- Michigan Nurses Association
- Justice Democrats
- EMGAGE
- Democracy for America
- Progressive Change Campaign Committee
- Michigan Democratic Party Progressive Caucus
- Michigan Democratic Party Young Democrats of Michigan
- Michigan Democratic Party Cannabis Caucus
- Grand Rapids United Progressives
- Kent County Progressive Caucus
- Lansing for Revolution
- Oakland County for Revolution
- Ann Arbor for Revolution
- Michigan for Revolution
- Millenials for Revolution
- Michigan Our Revolution Electorate
- NW Detroiters on Call for Social Justice
- Wayne County Black Caucus
- Oakland County Black Caucus
That's a lot of organizations that want equality and justice. Unfortunately for El-Sayed, they're historically less influential in Michigan politics than unions like the United Auto Workers and Michigan Education Association, who've fallen in line behind Whitmer. But Michigan progressives have managed to buck tradition once already this year. At the
Democratic endorsement convention this April
, they propelled Democrat attorney general candidate Dana Nessel to victory against an establishment Democrat and Obama appointee.
Can El-Sayed and his bold progressive agenda beat the odds like Ocasio-Cortez? Establishment Democrats doubt it. Illinois senator Tammy Duckworth, for example, has said that while Ocasio-Cortez was "the future of the party in the Bronx, ... I don't think you can go too far to the left and still win the Midwest."
But an article by
New York Magazine, "
Ocasio-Cortez's Socialism Can Work in the Midwest — With a Rebrand," describes support in region for progressive policies like those proposed by El-Sayed, but says disdain is often aroused simply based on the labels they're given. For example, people generally don't like the word "socialism," but they'd like to keep intact socialist programs like social security. But El-Sayed seems to know how to read a room, and has aligned himself with Bernie Sanders in a state the Vermont senator won in the 2016 presidential primary, while steering clear of the "s" word even though some of his key proposals are socialist in nature.
name
and
Muslim heritage
, which make it unlikely that some Michiganders — who the prognosticators assume to be borderline or all-out Islamophobic — will vote for him.
Stay on top of Detroit news and views. Sign up for our weekly issue newsletter delivered each Wednesday.