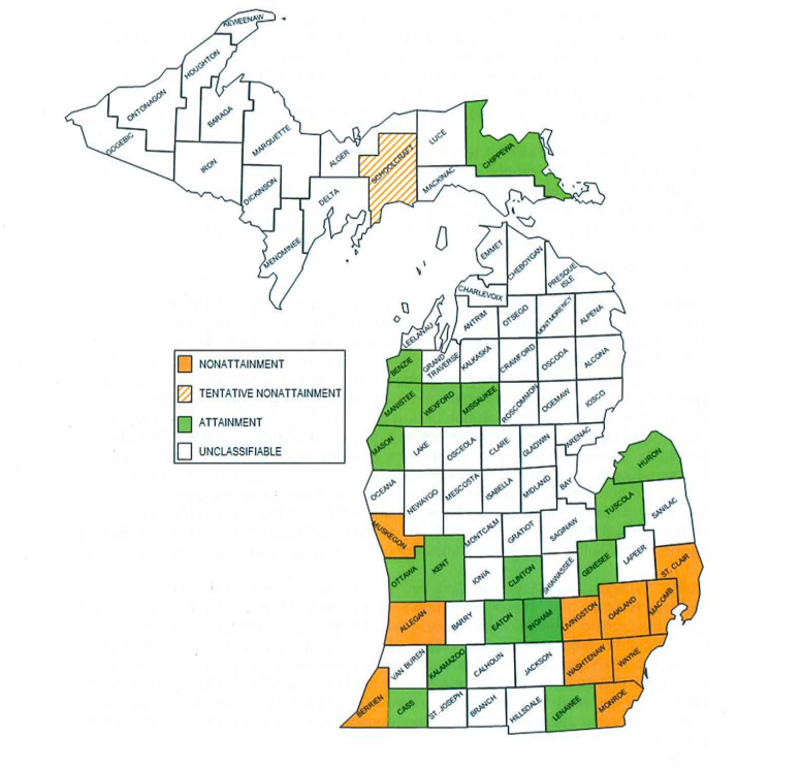 Seven southeast Michigan counties are in violation of national standards for ozone pollution, according to a formal declaration issued by the Environmental Protection Agency.
Oakland, Wayne, Macomb, Washtenaw, St. Clair, Monroe, and Livingston counties were cited as being in
"non-attainment"
in the determination released Tuesday, meaning they had or contributed to ground-level ozone levels that exceeded recently tightened air quality standards. On the west side of the state, the EPA cited Berrien, Allegan, and Muskegon counties.
In 2015, the EPA reduced the acceptable amount of ozone from under .075 parts per million to under .070 parts per million. Testing conducted by the Michigan Department of Environmental Quality found the seven counties in non-attainment were at .072. The designations are based on the most recent three years of air quality monitoring data, 2013-2015.
According to the EPA, ground level ozone, or "bad" ozone, is created by chemical reactions between oxides of nitrogen (NOx) and volatile organic compounds (VOC) in the presence of sunlight. Factory and vehicle emissions are some of the major sources of those pollutants.
Breathing ozone can trigger a variety of health problems, especially in children, the elderly, and people with lung problems like asthma, the EPA says. Ground level ozone can also have harmful effects on sensitive vegetation and ecosystems.
Michigan now has three years to begin to implement a plan to bring the level of ozone in the ten counties down to what's acceptable.
Stay on top of Detroit news and views. Sign up for our weekly issue newsletter delivered each Wednesday.