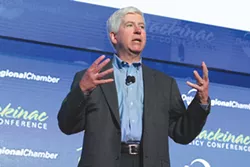 With an eye to Gov. Rick Snyder and the $3.4 million tab he's run up contracting private attorneys to defend him in Flint water crisis-related litigation, Democratic Senate Minority Leader Jim Ananich has introduced legislation that would put the kibosh on such uses of public dollars.
According to the
Detroit News,
which was able to review a copy of the bill, the governor and some other statewide officials would be banned from using tax dollars on private defense counsel, specifically for suits "relating to a matter connected with his or her respective office."
As has previously been reported, Snyder has been running up quite a tab when it comes to his private defense attorneys vis-a-vis Flint.
"Snyder has hired two separate law firms to assist his office with litigation and investigations related to the Flint water crisis, in which lead leached into the city's drinking water when the city was switched to Flint River water that wasn't treated to prevent corrosion,"
The Detroit News
writes. "The contracts were recently amended to allow spending of up to $3.4 million, up from an initial price tag of $1.2 million."
Warner Norcross & Judd, a criminal defense firm contracted by the governor's office, can earn as much as $2 million for "provision of legal services related to records management issues and investigations regarding municipal drinking water [in Flint]," and Barris, Scott, Denn & Driker — who provides "legal services related to civil litigation about municipal drinking water [in Flint]" — has a contract worth $1.4 million.
"This money matters to people," Ananich, D-Flint, told the
News
. "The state budget may be big, but every dollar in it came from the hard work of some taxpayer. We should be very careful with how we spend it."
Typically the governor's defense in such cases would be done by the attorney general — in this case, Bill Schuette — however, Snyder has opted for private counsel. A big part of that is because Schuette is in the midst of his own criminal investigation into Flint, a fact that essentially makes it impossible for him to also defend the governor.
While Schuette suggested the governor use private attorneys for his defense, the high fees have been subject to a number of criticisms in recent months, specifically with questions posed as to why the governor did not start a legal defense fund or use campaign donations to pay for the fees. In a May article on the governor's costly Flint-related legal fees, Paul Egan of the
Detroit Free Press
explained that the governor saw his position as a reason to charge the state for his legal bills. "Snyder says the legal fees arise directly from his official actions as governor and it is appropriate to charge them to the state," Egan wrote.
Taxpayer dollars being used to shut down grievances by the public can be tricky, though.
In April, Barris, Sott, Denn & Driker, for example, filed a complaint stating that a January 2016 civil suit filed against the governor should be dismissed because the 10 plaintiffs failed to meet a six-month deadline following the "cause of action."
"Plaintiffs did not give timely notice of their claims. There is no legal basis for extending the notice period," the complaint read in reference to a Jan. 19 suit seeking "compensatory damages" for those affected by the Flint water crisis. It named Snyder, and former emergency managers Darnell Earley and Jerry Ambrose as defendants, as well as the Michigan Department of Environment Quality and the Michigan Department of Health and Human Services.
The complaint filed by the governor's taxpayer-funded lawyers, however, argued that since the Flint water crisis began in April 2014 when Flint connected to the Flint River as water source, the January 2016 filing was too late (it, of course, didn't mention the fact that Snyder did not publicly acknowledge a crisis in Flint until October 2015).
According to the
Detroit News
, Ananich's legislation — at least the current draft — would apply to the governor, secretary of state and auditor general. He told the
News
that he has also discussed the legislation with the Joint Select Committee on The Flint Water Public Health Emergency, who is expected to make policy proposals in regards to the water crisis and response.