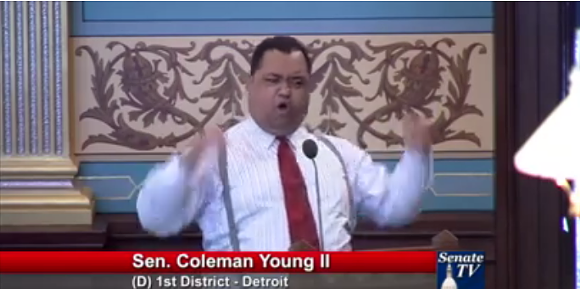 It's rare for a politician to really speak with the voice of the people. But when he took the podium in the state senate yesterday, Detroit Senator Coleman A. Young II channeled what we're all feeling about the Flint blame game.
"Stop. It's making my head hurt. I'm going to literally internally combust."
Okay, maybe we wouldn't go quite that far. But just a day after Governor Snyder took his plausible deniability to Washington, the response to the crisis is making us all a little sick.
In a two-minute speech full of emphatic gestures, littered with hyperbole, and punctuated with well timed pounding on the speaker's podium, Young berated his fellow senators for turning their attention to other matters.
"Please. I don't want to hear anyone talk about any other project, or any other situation. Cause nobody cares until we fix the issues of the people in Flint."
And while others with urgent matters pending in the state legislature - including a bailout for the beleaguered Detroit Public Schools in Young's own district - might not appreciate his single-minded focus, it is impossible to fault his enthusiasm.
Young's speech also included one fantastic OutKast reference that you've just got to see for yourself. Watch the entire 2:24-long video below.
Enough.

Republicans will use any opportunity to blame former governors for current mistakes. We need to focus on the NOW and get the people of Flint the immediate assistance they need.

Posted by Coleman Young on Thursday, March 17, 2016