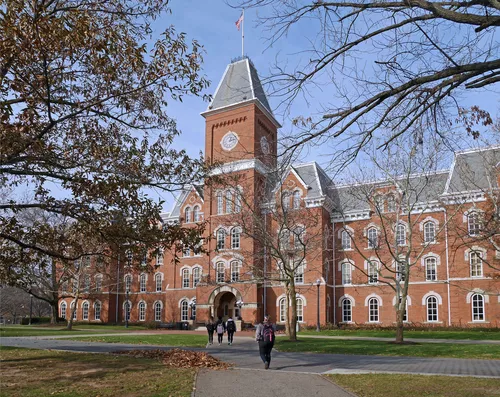 Campus Pride, a national online community and resource network dedicated to LGBTQ-friendly college awareness, has released this year's list of the country's "Absolute Worst Campuses for LGBTQ Youth."
No, this isn't one of those pieces of clickbait where use arbitrary indicators of gay-friendliness and compose a list everybody clicks on and nobody agrees with. No, Campus Pride has listed 102 campuses with documented anti-LGBTQ policies, for instance, openly discriminating against LGBTQ youth in policies, such as receiving or requesting Title IX exemptions to discriminate against LGBTQ youth.
Sure, a lot of these places are Baptist bible colleges with references to scripture right in the name: places where you'd have a hard time expecting prevailing policies to be progressive. But some of them hide their true colors quite effectively. For instance, Donald Scherschligt, a campus organizer working on this project with Campus Pride, attended California's unassuming Westmont College, an inter-denominational Christian college in California. He says, "While they have not applied for a Title IX waiver, it is clear that their past and current policies and practices are anti-LGBTQ. ... I hope this listing will help colleges like Westmont realize the future is one of inclusion, especially within higher education."
What Michigan colleges or universities made this list?
Andrews University of Berrien County did. The institution, operated by the Seventh Day Adventist Church, has an established history of anti-LGBTQ discrimination according to Pride Source, opposing student advocacy for LGBTQ homeless youth, along with banning same-sex relationships and official LGBTQ student groups.
Spring Arbor University of Spring Arbor, just outside Jackson, also made the list. The university, affiliated with the Free Methodist Church, received an exemption to Title IX; according to Pride Source, it allows the college to discriminate against its students on the bases of sexual orientation, gender identity, marital status, pregnancy or receipt of abortion while still receiving federal funds.
Want to see the entire list? It can be found at
campuspride.org/ShameList
.