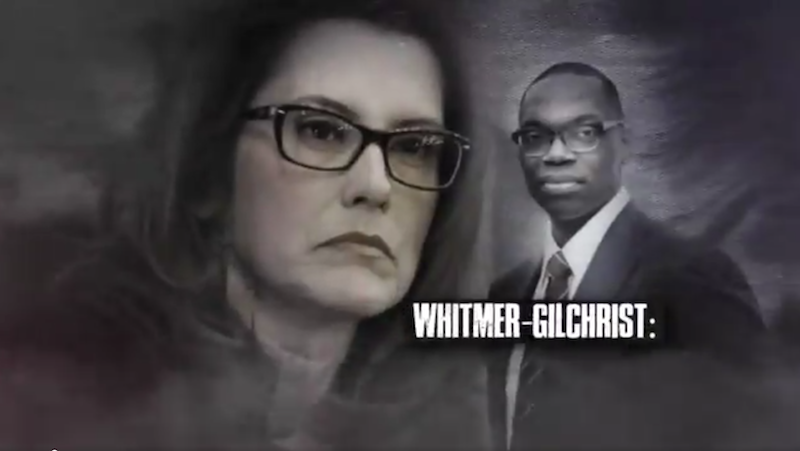 Bill Schuette knows that the race for governor is ramping up, which means that now is the time for low-blow campaign tactics ahead of the November election.
In his latest attack ad against Democratic candidate Gretchen Whitmer, the Republican candidate's rhetoric positions Whitmer-Gilchrist as being the "Most left-wing ticket in Michigan history."
Dripping in propaganda, the ad continues to use inflammatory words to appeal to potential right-wing voters. However, perhaps the most unsettling piece of the attack ad is the context from which the images of Whitmer are pulled from.
Gretchen Whitmer and Garlin Gilchrist are the most extreme Democrat candidates in Michigan history—opposing immigration enforcement, bashing Israel, supporting Hamas. They are an extreme risk we can't take. pic.twitter.com/jXYkTlSxPI

— Bill Schuette (@SchuetteOnDuty) September 7, 2018
The grim-faced Whitmer is in stark contrast to the typical images of the smiling, bright features of the Democratic candidate. And for good reason. The frowning photo of Whitmer comes from her address to the Michigan Senate in 2013 when she shared personal details of her sexual assault survival story in response to the
"rape insurance" bill
.
What's even worse than craven @SchuetteOnDuty's desperate new ad?

The images in it they use of Gretchen Whitmer come from when she told her personal story on the Senate floor of surviving sexual assault.

How low can they go? How shameless can they get? #migov pic.twitter.com/fcmL1cjKCI

— 𝙂𝙍𝘼𝙃𝘼𝙈 𝘿𝘼𝙑𝙄𝙎 (@grahamdavis) September 8, 2018
In December of 2013, Whitmer went off-script during her speech to the Senate to give a face to victims of sexual assault.
In the speech
, Whitmer emotionally shared her story of getting raped as a freshman at MSU, saying, "It's something that I've hidden for a long time, but I think you need to see the face of the women that you are impacting by this vote today."
The attack advertisement was sponsored by Bill Schuette for Governor, the official organization behind Schuette's campaign for governor.
Tony Zammit, deputy communications director for the Michigan Republican Party, disputes that the photo was from Whitmer's "rape insurance" speech. "The photo used in the ad in question is from a 2016
Detroit News
piece entitled
'Whitmer named interim Ingham County prosecutor'
and the citation for the photo says that it was provided to the News by the Michigan Senate Democrat caucus," he says in an email.
However, Zach Pohl, communications director for Whitmer for Governor, says the photo is in fact from the day of Whitmer's speech.
"I have confirmed with the Michigan Senate Democrats that the photo was taken by their staff photographer, David Olds, on Dec. 11, 2013 — the day Gretchen gave
her floor speech
about being sexually assaulted," he says. "As you can see, the blue shirt, glasses, and ruffled sweater are an exact match."
Stay on top of Detroit news and views. Sign up for our weekly issue newsletter delivered each Wednesday.