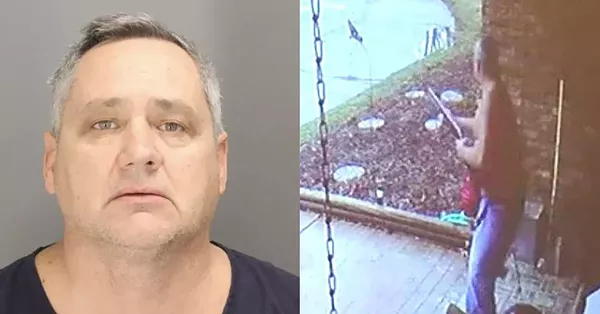 Jeffrey Ziegler — the white Rochester Hills man seen shooting a shotgun at an unarmed black teenager in
a viral video
this week — was found guilty by a jury on Friday.
The jury at Oakland County Circuit Court found Ziegler guilty of assault with intent to do great bodily harm and possession of a firearm in the commission of a felony. In all, Ziegler could face up to 12 years of prison time. He is currently jailed without bond until his Nov. 13 sentencing.
The conviction stems from an incident in April, when a 14-year-old Rochester High School freshman said he missed his bus and got lost while walking to school. That's when he knocked on Ziegler's door for help — but instead of helping him, Ziegler, a 53-year-old former Detroit firefighter, fired a shotgun.
Ziegler offered conflicting explanations for what happened. He initially told investigators he woke up to his wife screaming that someone was breaking into their house, and that he then slipped and accidentally fired the gun. But later, Ziegler said that he was attempting to fire a "warning shot."
That's not what home surveillance video released to the jury this week showed, however. Instead, it shows the teen knocking on the door and waiting for someone to answer. He then runs away when he sees Ziegler answer the door holding a shotgun, who then appears to be deliberately aiming his gun at the fleeing teenager.
Rochester Hills Michigan 6 months ago.

The surveillance footage was just released.

14 y/o Black Teen misses the bus to school & figures he knew the route well enough to walk the 4-mile route. He gets lost, stops to ask for directions, & nearly loses his life.

WHY WE KNEEL! pic.twitter.com/k3cnL3kO6u

— StanceGrounded (@_SJPeace_) October 11, 2018
When confronted about the discrepancy, Ziegler told prosecutors he was "tired of being a victim." According to Ziegler, there had been five break-ins or attempted break-ins in the 13 years he has lived there, including one in which the Zieglers were asleep in their home.
"There were choices made and choices have consequences," assistant prosector Kelly Collins told the jury, according to
The Detroit News
. "... He told you of his past and his credentials and how he is an upstanding citizen and homeowner who was broken into before ... and how he felt he and his wife were in danger. ... He was the danger on April 12."
Stay on top of Detroit news and views. Sign up for our weekly issue newsletter delivered each Wednesday.