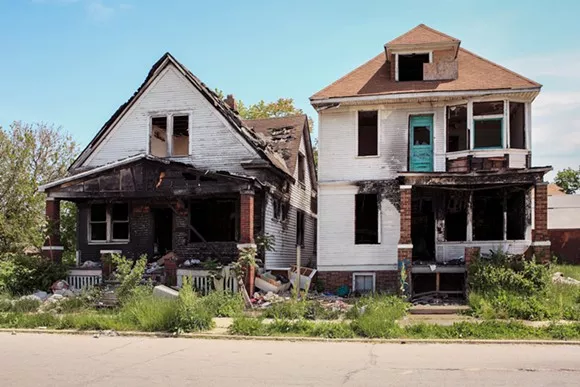 A financial website called 24/7 Wall St. says Detroit is the worst city in the country to live in, and Flint is the second worst. Apparently this is the second year in a row Detroit won the dubious title.
The reasons Detroit apparently sucks are things you've heard before: High crime (there were over 2,000 violent crimes for every 100,000 residents in 2016), a high poverty rate (more than 1 in 3 residents lives below the poverty line), and high unemployment (11% of Detroiters are out of a job, but experts have said real unemployment is likely much higher).
But people walking around outside of
Metro Times'
Midtown office don't seem to agree — and some challenge the city's bad rap. What follows are some nice things Detroiters and visitors had to say about the city.
Adam Thomas, 65, lifelong resident, stays near 7 Mile and Van Dyke:
"I don't agree. What's good about Detroit is, you know, it's got a good atmosphere, it's open. You go to New York, you look up at the sky, you see this much sky up in the city." He holds his hands closely together. "It's not as great as it was 40 years ago, but still I think it's a good city. Detroit gets a bad rap, and the main reason why is because it was designated as a black city. I don't have no problem — it's no worse than Philadelphia or Chicago in terms of crime."
Steve Phillips, 39, says he moved here about two weeks ago:
"I actually like it a lot better than the hometown I come from because it feels built like Chicago. [I'm from] Decatur, Illinois, unfortunately ...It's a really big city, really good for cardiovascular," he says, laughing. Steve does not drive. He says he came here "mostly on foot."
Sweet the Peach (her rap name), 31, lives in Detroit:
"Detroit does get a bad rap, it does, across the United States, I've traveled, it does. There are a lot of problems, there is a lot of poverty, but one thing I do like about Detroit is that it has a spirit of getting back up again. So if you can get your mind kind of centered on persevering, you can keep going here. It's just like any inner city in the United States though, this is a national thing — poverty within an urban area."
Two travelers, woman from Toronto, man from Phoenix, second day in Detroit:
"I don't think it's the worst city," the woman says. "We haven't been here long, but we're fine," the man says. "It's nice," she says. "There's a beautiful museum," he adds, referring to the Detroit Institute of Arts. "Nice restaurants," she says.
Margareth Corkery, works in Detroit, used to live in city:
"Detroit is beautiful place to live. I mean we have our problems, granted, but there's beautiful architecture, like you know, old English Village, Palmer Woods, the River Front. All these new restaurants here, we're coming back. Yeah we have problems, I'll give it to you, but I love Detroit. I don't live in Detroit anymore, I used to, but it still is my heart."
As for Flint, Wall St. 24/7 ranked it as second worst due to a nearly 10 percent unemployment rate, and a violent crime rate of 1,587 incidents per 100,000 people. The city's poverty rate is even higher than Detroit's — with almost 1 in every 2 Flint residents living below the poverty line.
Stay on top of Detroit news and views. Sign up for our weekly issue newsletter delivered each Wednesday.