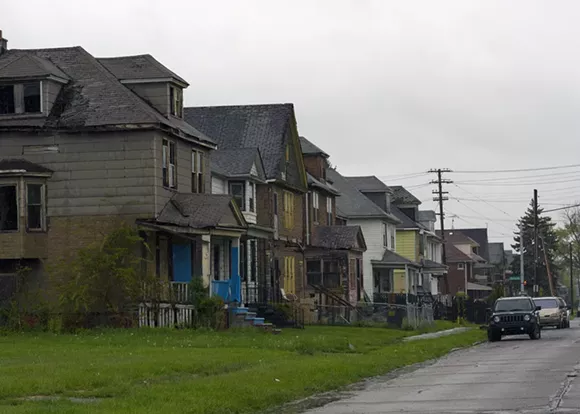 With Detroit in the midst of an economic turnaround after decades of decline, there's a new set of data out confirming what the naked eye can plainly see: many longtime residents — namely, the minorities who make up 90 percent of the city — are being left out of the nascent growth, and economic disparities, in some cases, are widening.
The "139 Square Miles" report by the non-profit Detroit Future City — known for the 50-year plan for Detroit it released five years ago — gives a comprehensive look at the state of the city using data from the Census Bureau's American Community Survey and other sources. And while a press release sent out with the report aimed to put a sunny face on things by first giving the good news (tens of thousands of jobs have been added, some neighborhoods are stabilizing, and a decades-long population decline is slowing), then the bad (the unemployment rate is 150 percent higher for African-American residents, a third of residents live off less than $15,000 per year), juxtaposing the data lays bare a gap in the areas of education, job opportunity, and economic advancement.
"This report really speaks directly by the numbers to the need for economic inclusion and being deliberate about that," says Detroit Future City executive director Anika Goss-Foster. "There needs to be more than just talking about economic inclusion, but there actually needs to be a strategic and direct action."
As the number of jobs in the city grows thanks to private-sector employers like Dan Gilbert, the report finds most Detroiters ineligible for the positions available because the majority of roles require a level of education they do not possess. To put it in numbers — of the city's 240,000 jobs, two-thirds of them are held by people who've completed at least some college, while only 20 percent of Detroiters older than 25 have obtained an associate's degree or higher (a stat likely skewed higher by a recent influx of 10,000 millennials).
"So there's all of these new people working in Detroit, but they might be people who are transplanting from other cities or commuting in from other cities to work for these companies," explains Goss-Foster.
The Future City report does not go into detail about who exactly is occupying these positions, but a study by Michigan State University researchers released last fall showed jobs in the city's greater downtown increasingly going to non-Detroiters, who held nearly 90,000 existing positions in the area as of 2014. By contrast, the number of jobs held by Detroiters in the greater downtown was on the downswing, and rested at just under 30,000 in 2014.
"How we even think about recruiting new businesses to come to Detroit, there has to be this sort of deliberate effort to hire local, hire Detroiters," said Goss-Foster, who added that city residents need to be hired in positions that can provide pathways to higher wages.
According to the report, more than half of the jobs available in the city pay more than $40,000 per year, but with those positions likely going to people who've attended college, Detroit's poverty rate continues to increase. Forty percent of Detroiters live at or below the federal poverty line (up from 36 percent in 2011), with most of those impoverished Detroiters living in households making less than $15,000 a year. Meanwhile, the report found the unemployment rate among black Detroiters is more than 150 percent higher that of white Detroiters. Only 33 percent of jobs in the city are held by African Americans.
Goss-Foster touts some efforts city officials have made to reverse these trends — the Detroit Promise program, for instance, allows Detroit high school grads to attend college tuition-free (though most students wind up dropping out), while city partnerships with unions and the like aim to get Detroiters trained for the jobs available — but she says that if greater steps are not taken to address the city's economic disparities, the problems will only worsen.
"[You'll see] the same trend where you have people who are already on this higher pace and will continue to make a lot of money that are white or already very high income, and then you will continue to see people who are living in neighborhoods with limited access to jobs and opportunity continue to spiral and the city itself won't grow and thrive," she said.
Vacancy on the rise
Beyond looking at the troubles the people of Detroit face, "139 Square Miles" also serves as a barometer for the city's changing landscape. And despite the allotment of more than $200 million in federal money to a program that has demolished more than 10,000 vacant houses, that landscape appears increasingly derelict.
Vacancy has been a point of contention for Detroit Mayor Mike Duggan as he seeks re-election, and he's cast doubt on data by Motor City Mapping that shows it's on the rise. Now, the Future City report also shows an increase in vacancy, with the number of vacant residential units up 4 percent from five years ago. The latest data shows 30 percent of the city's residential units — about 110,00 units — were vacant as of 2015. That's up from 94,000 units in 2010. Single-family homes make up about three-fourths of the city's housing.