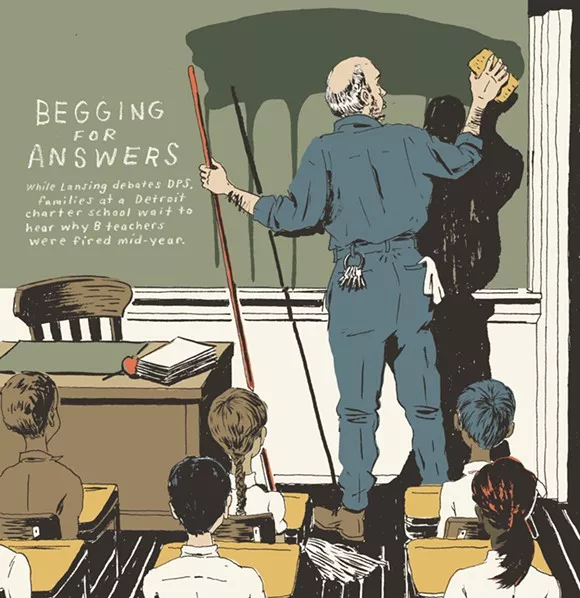 Our cover story last month "
Begging for Answers
" detailed the questionable firing of eight teachers from Universal Academy, a charter school on Detroit's west side, and chaos in the wake of the educators' absence.
A rally is being held Tuesday evening by parents, teachers, and students from the school, and Michigan ACTS, the charter-organizing arm of the American Federation of Teachers Michigan. The rally takes place before the school's board meeting, with the intention to sit in and demand action.
"Because the state of Michigan has incredibly weak accountability for charters, we know that it's up to the board and the community to achieve change at UA," says Asil Yassine, one of eight teachers who were fired. "The community is all in — now we're looking at the board and (school management company Hamadeh Educational Services) leadership to do their job."
The rally's goals are two-pronged, Yassine says: Ask the board to adopt a resolution acknowledging that terminating the teachers hurt school culture and also push them to ensure teachers won't be retaliated against if they speak up in the future (six of the fired teachers had attended a board meeting two weeks before they were terminated).
"We want reassurance that Hamadeh will never again illegally retaliate against employees who try to improve their school," continues Yassine. "Once Hamadeh and the board acknowledge that firing staff for doing their job was detrimental to our students, then we can talk about some real changes for next year."
The National Labor Relations Board is investigating the termination of the teachers following a lawsuit that Michigan ACTS filed in March on behalf of the fired educators.
A toxic school culture has worsened since the teacher firings, and remaining teachers are uncomfortable speaking up, says the AFT's Nate Walker.
"
The purpose of this rally is to let the Universal Academy board know that this is unacceptable," says Walker. "And to give them the opportunity to pass a resolution that shows they are committed to respecting teachers' federally protected rights."

The rally is at 5:30 p.m. at Hamadeh Educational Service's central offices, 6919 S. Waverly in Dearborn Heights, with speakers at 6 p.m. The school board meeting is at 6:30 p.m.