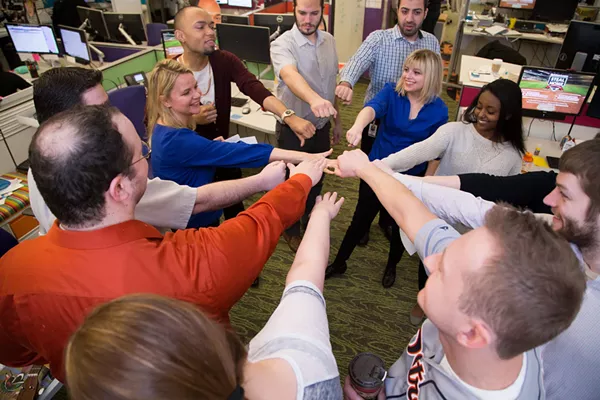 The people have spoken: Quicken Loans, Dan Gilbert's Detroit-headquartered mortgage lending giant has once again been named to
Fortune
's Best
Companies to Work For List
, though this year the company slid from No. 10 to No. 14.
The 33-year-old company — now the nation's largest online retail mortgage lender and its second largest retail mortgage lender — earned high ratings from 1,514 employees who responded to
Fortune
's survey. Those included categories like "great challenges" (95 percent), "great atmosphere" (98 percent), "great pride" (97 percent), and "great bosses" (95 percent). The company also earned kudos for the role it has played in Detroit's revitalization since Gilbert relocated the company downtown in 2011, citing Gilbert's contributions to developments such as the new QLine streetcar. (We're sure the QL offices' storied video arcade games, Razor scooters, indoor basketball court, and candy dispensers were also factors.)
"The Detroit-based fintech mortgage lender gets props for an 'unbelievable' culture,"
Fortune wrote
of the company. "CEO Jay Farner hosts face-to-face meetings with employees where 'no topic is off-limits.' And staff can submit business ideas to the Cheese Factory, part of Quicken's drive to 'build a better mousetrap.' It implemented 900 of those ideas last year."
Of course, a "mousetrap" might not be the best metaphor for a company that
has been charged in a 2015 federal lawsuit
alleging that it misrepresented borrowers' income or credit scores or inflated appraisals. (Quicken Loans maintains that the government "cherry-picked" a small number of examples to build its case, and preemptively launched its own lawsuit against the DoJ.) The company is also known for its grueling hours, with hundreds of ex-employees having launched lawsuits alleging Quicken Loans
forced them to work unpaid overtime
.
To make the list, a company had to have at least 1,000 employees and receive enough survey responses to achieve a 95 percent confidence level with no more than a 5 percent margin of error. According to the report, Quicken Loans has a little over 15,000 employees across 29 work sites. The report also says that of this month, the company has about 700 job openings, and plans to hire at least 7,500 in the coming year.
Stay on top of Detroit news and views. Sign up for our weekly issue newsletter delivered each Wednesday.