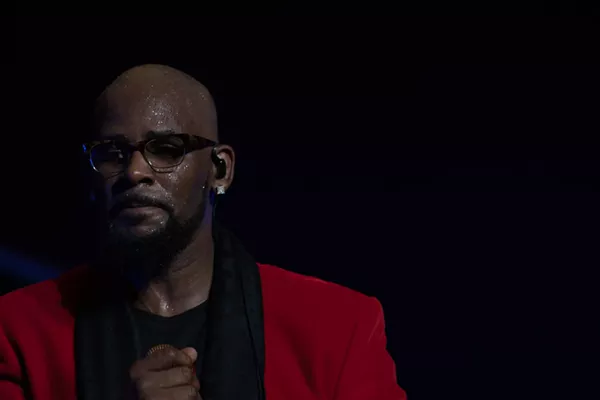 R. Kelly has stood trial on child pornography charges, been the subject of multiple sexual assault allegations, and is widely believed to have married a 15-year-old when he was 27. Yet he remains a successful performing artist who, as of last summer, could still sell out crowds in Detroit.
Tomorrow, that star power is set for a collision course with the #MeToo movement, when Kelly plays his first show in Detroit since allegations against Harvey Weinstein escalated calls for a zero-tolerance approach to sexual abuse. Protesters have planned a rally in front of the Little Caesars Arena to coincide with the start of the show, part of a nationwide campaign called #MuteRKelly.
Protest co-organizer Kalimah Johnson, who is also executive director for the Detroit-based Sexual Assault Services for Holistic Healing and Awareness Center, or
SASHA Center
, says she'd like to see would-be attendees "rip up their tickets."
"We're funding [R. Kelly's] behavior when we buy his concert ticket," Johnson says. "We're ultimately saying 'it's ok to support a person who has had inappropriate sexual activities with under age girls.'"
Johnson says she can understand that it's difficult for people to see the artist behind inspirational hits like "I Believe I Can Fly" as a sexual predator, but "In this new day and age, I think it's time to hold people accountable."
Detroit appears to be a little behind the times. Last summer, after
BuzzFeed
published a story
featuring the accounts of young women who said the artist had held them hostage in a sex cult at his Georgia mansion, he had to cancel multiple tour dates due to poor ticket sales. But in Detroit, Kelly was greeted by a
sold out crowd
at Chene Park. His tour stop in Mt. Pleasant also drew a crowd.
Kelly's alleged transgressions include having married Detroit's own Aaliyah in 1994 when she was just 15 and he was acting as her producer. The year before the reported marriage, Aaliyah released the album, "Age Ain't Nothing But a Number," on which Kelly did most of the songwriting. Both artists denied the marriage, but
Vibe
reportedly published a
marriage certificate
that listed Aaliyah as being 18. Aaliyah's parents reportedly had the marriage annulled and the songstress ceased doing business with Kelly until her death in 2001.
In the years that followed, at least two anonymously sourced sex tapes would emerge, purporting to show the artist performing sex acts on under-aged girls. The infamous tape in which Kelly was said to have peed in the mouth of a 14-year-old made it before a jury in 2008. Kelly was acquitted of wrongdoing in that case.
Things were relatively quiet for Kelly until 2016, when he married a 19-year-old. The following year, they again reached a boiling point when reporter Jim DeRogatis published his explosive sex-cult piece for
BuzzFeed
.
The fact that Kelly continues to be booked for shows despite the allegations prompted DeRogatis, who is behind many of the stories chronicling the artist's alleged sexual impropriety, to at one point say, "The saddest fact I've learned is:
Nobody matters less to our society than young black women."
For Johnson, this is why Detroit residents in particular, 82 percent of whom are black, need to take a stand by skipping the show.
"We're hoping they say violence against girls and women is wrong and particularly violence against black women and girls needs more visibility," Johnson says.
The show at Little Caesars Arena is put on by the radio station 105.9 Kiss and 313 Presents — a joint venture between Olympia Entertainment and Palace Sports and Entertainment. It is billed as being part of the "Tale of Two Kings tour," with Charlie Wilson, though it appears that it is a standalone show for the pair. Wilson is currently on a solo tour. According to
a notice
posted last year by Olympia Entertainment, a division of Ilitch Holdings, the concert is the makeup date for a May 29, 2017 concert Kelly had to cancel "due to scheduling conflicts."
Calls and emails to 313 Presents and 105.9 Kiss were not immediately returned.
The protest against Kelly will get underway at 6:30 p.m. Wednesday.
Stay on top of Detroit news and views. Sign up for our weekly issue newsletter delivered each Wednesday.