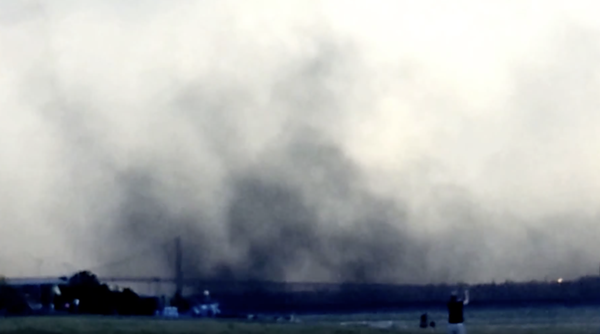 Southwest Detroit residents who have for years been clamoring for tougher regulations on the industrial companies operating in their backyard may soon be able to breathe a little easier.

Detroit City Council member Raquel Castañeda-López — whose district includes what was once deemed Michigan's most polluted zip code, 48217 — has introduced an ordinance to regulate the storage and transportation of industrial byproducts like petcoke and coke breeze in an effort to prevent pollutive particles from blowing onto surrounding neighborhoods and homes.
You may recall the massive petcoke piles that sat uncovered along the river in 2013, whose particles would cast a dark haze over Detroit during times of high wind. The black, rocky mounds were made of a carbon byproduct that derived from the petroleum refining process at the Marathon facility in Southwest Detroit. The material was being stored by Detroit Bulk Storage.


In 2015, a separate type of pollutant called coke breeze appeared along the river bank, prompting Detroit's Building, Safety Engineering, and Environmental Department to order the company responsible for storing the material to put it in an enclosed structure, transfer it through an enclosed system, and prevent possible water runoff. That coal byproduct had come from industrial activity on Zug Island and was being stored by a company called Waterfront Terminal Holdings, which fought the action in court and lost.

Castañeda-López's ordinance would take BSEED's restrictions a step further. Her proposal would require that carbonaceous materials be stored in fully-enclosed facilities and that trucks and rail cars be cleaned and covered in tarps before exiting a facility. The ordinance would also require facilities handling bulk solid material to submit a "fugitive dust plan" that includes street sweeping, and install wind and air monitors along the perimeter of their facilities.

"Every Detroiter deserves to breathe clean air," Castañeda-López said in a news release. "Detroiters ability to live, work and play in the city is directly tied to air quality and this ordinance is the first step to advancing environmentally friendly policies and practices in the city."

Studies have shown Detroiters have the highest risk of developing asthma in the state of Michigan. A 2016 look by the state's health department found the prevalence of asthma among Detroit adults was 30 percent higher than the state average. The rate of hospitalizations for asthma, meanwhile, was 300 percent higher than the state average. Castañeda-López's office says further research has found links between airborne carbonaceous materials from industrial sites and respiratory health.