Historic preservationists are keeping a watchful eye on three brick multi-level buildings that stand in the shadow of the Little Caesars Arena after getting word last week that Ilitch family-owned Olympia Development had planned to demolish them without permission. The company's contractors had previously obtained demolition permits for the more than hundred-year-old buildings, but according to Detroit's buildings department, the permits are frozen as the city studies whether the buildings are eligible for historic designation.

Alarm bells first went off Tuesday when workers in neon shirts and hard hats showed up outside the more than hundred-year-old buildings at Cass Avenue and Henry Street, near Woodward and I-75. With them was a truck printed with the Homrich logo— a company known for its work in demolition and remediation.

The activity sparked swift outcry from the preservation community as well as from those critical of the Ilitch family's track record when it comes to development. The family, which owns Little Caesars Pizza, the Red Wings, Tigers, and Olympia Entertainment, has amassed dozens of properties in the heart of Detroit over the years, demolished many of them, and developed a real estate portfolio comprised of mostly parking lots.

"The buildings that we have that are threatened are an important component to [the Cass Corridor] neighborhood," says Amy Swift, CEO of Building Hugger, a company that preserves and renovates historic Detroit buildings. "Are we going to continue to let a billionaire-class family continue to receive tax credits from us and use them to continue to demolish structures in our neighborhood that we don't want gone?"


Swift's sentiments were echoed by more than two dozen people who linked arms in front of the buildings on Cass last Thursday in a "group hug" demonstration aimed to save them. The demonstrators chanted "Ilitches can't hide for long, when we unite our voice is strong" and waved signs that read things like "you ain't paving this paradise" and "pizzarena gives me heartburn."

A spokesperson with Olympia Development released a statement to media outlets claiming the activity around the Ansonia and Atlanta buildings was "routine abatement" work being conducted as the company "[continues] to evaluate possibilities for future development." But Swift says a call to Homrich revealed otherwise: The properties, she found, were on the contractor's to-be demolished list, and crews at the site confirmed they would be gone next week.

Residents and preservationists who distrust the Ilitch family's intentions say it has resorted to questionable legal tactics to level historic buildings and make way for parking lots in the past. In 2005, after Detroit's historic commission denied the Ilitches permission to knock down the old Madison-Lenox Hotel in downtown's Harmonie Park, demolition crews came at the site anyway, damaging it to the point where there was no choice but to tear it down. Soonafter, concrete was poured to create the parking lot that's still there today.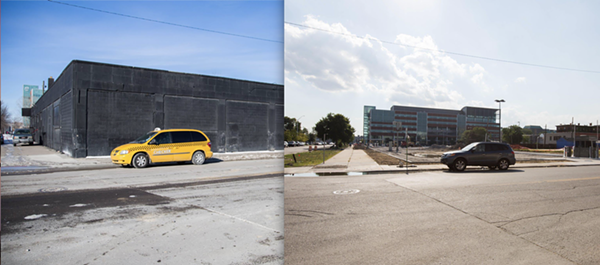 The Ilitches have, thus far, been making similar development choices in the lower Cass Corridor, where new surface lots have appeared in anticipation of the Little Caesars Arena's September opening. But Olympia Development has said things will eventually take a turn for the mixed-use, with plans to convert four existing buildings into apartments, some with retail, and build two new buildings around the arena as part of the "District Detroit." The buildings to be rehabbed include the United Artists Theatre on Bagley, the Hotel Eddystone on Sproat, the Hotel Fort Wayne on Temple, and the Alhambra Apartments on Temple.

But the Ilitches have not redeveloped any properties since the Fox Theatre 30 years ago, and critics say they doubt their plans will materialize.

"Dig up any of the original renderings for the district they issued in 2013 and it is stuffed with buildings and people and retail," said longtime Detroit resident Jordan Medeiros, who's been keeping a close eye on the situation. "[District Detroit's] 'Wild Cat Corner' promised two new buildings on the site in front of Comerica Park. Other renderings showed renovated buildings and new construction to fill in the gaps. What is emerging instead is an arena, surrounded by parking."

Olympia Development has not yet broken ground on any of its planned residential developments. The company has said the projects will get underway this year and next.

The Ilitch organization has billed its 50-block District Detroit as "a world-class sports and entertainment destination built around eight theaters, all four major sports teams, three professional sports venues and new restaurants, shops, offices and places to live - connecting Downtown to Midtown Detroit into one vibrant area." The development is due to receive $74 million in public funding. The cost of the $862-million Little Caesars Arena, meanwhile, includes $324 million in public financing.