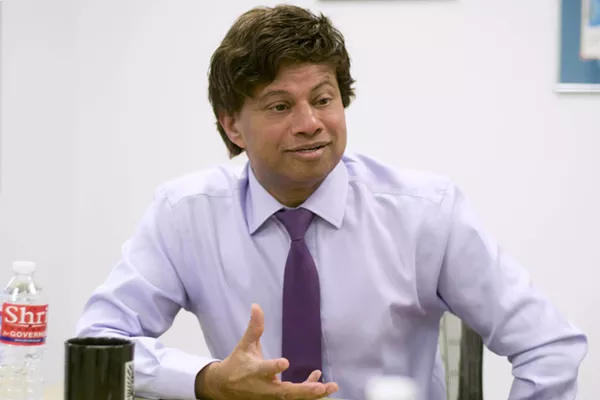 The latest poll on the race for the Democratic nomination for governor puts Gretchen Whitmer ahead of Shri Thanedar by two points, 17 percent to 15 percent. Abdul El-Sayed and Bill Cobbs each polled at 2 percent.
While the Denno Research poll is the second in a row to show Thanedar and Whitmer pulling ahead, it's worth noting it found 63 percent of Democratic voters undecided.
Pollster Denns Denno says his firm called 500 Democrats around the state who are likely to vote in a primary election. The poll was conducted over the phone on April 6 and April 7, and 30 percent of the calls went to cell phones.
In March, Republican pollsters MRG
put Thanedar ahead of Whitmer
by 3 points, and
a February Epic-MRA poll
had Whitmer leading Thanedar by 10 points.
Thanedar is a millionaire who is largely self-funding his campaign and running on a progressive platform. He appears to be absorbing attacks from El-Sayed's camp, which has accused him of not being a "real progressive," though both candidates have very similar platforms. A national outlet has also
called into question
Thanedar's progressive credentials. El-Sayed formerly served as the Detroit Health Department's director under Detroit Mayor Mike Duggan, but has since distanced himself from some of the mayor's initiatives.
Thanedar bills himself as an insurgent candidate who's running a progressive campaign with proposals like legalizing pot and using the money to help fix the roads, implementing a $15 per hour minimum wage, implementing universal health care, eliminating tax subsidies for the rich, and banning for-profit charter schools. He's refusing to take corporate cash to fund his campaign, as is El-Sayed.
Whitmer, a former Ingham County prosecutor and the state's former Senate minority leader is viewed as the establishment candidate. She has grabbed endorsements from several major unions, and executives at health care giant
Blue Cross
recently asked its employees to donate to her campaign. However, she tells
Metro Times
that the majority of her campaign funding comes from small donations.
Voters will choose a Democratic candidate on Aug. 7.
Stay on top of Detroit news and views. Sign up for our weekly issue newsletter delivered each Wednesday.