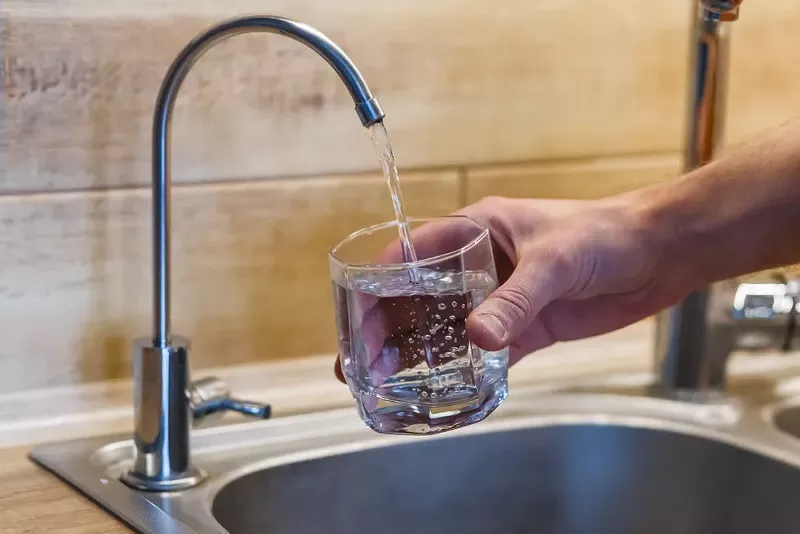 Residents of Benton Harbor have forced the country to pay attention to their ongoing fight for clean water.
For three years, the majority-Black city of Benton Harbor's water lead levels have exceeded the legal limit, endangering residents. But a recently filed petition from residents and advocates has ratcheted up attention—and action—from policymakers to adequately address this crisis.
The 2022 state budget passed by the Legislature and signed by Gov. Gretchen Whitmer in September includes $10 million to replace lead service lines and improve drinking water safety in Benton Harbor. Now, Gov. Whitmer has issued an Executive Directive calling on the Michigan Legislature to use $11.4 million to replace the city's pipes within 18 months as well as an additional six-part order to strengthen water regulations and lead mitigation efforts statewide. Additionally, the infrastructure bill just passed by Congress is set to deliver $1.3 billion to Michigan for water infrastructure upgrades, with Benton Harbor being mentioned specifically as a reason for Representative Fred Upton's support of the bill.
Before these actions, the petition estimated that residents in Benton Harbor could face over six more years of living with elevated lead in their water. Like in Flint, grassroots leaders responded urgently, providing relief to residents when action stalled and demanding accountability. The Benton Harbor Community Water Council has distributed thousands of cases of water, hosted filter distribution events and educated the public about the crisis in the past three years. They met with advocates and contacted the federal Environmental Protection Agency earlier in 2021 to demand action for the children of their community, prompting the current response.
No amount of lead exposure is safe, especially for children. In addition to lead in the water, lead paint in older housing stock and even lead in the ground from paint and gasoline remnants also pose danger. The damaging effects of lead exposure are well documented, and lead contamination in water plays a significant role in overall lead poisonings. Lead poisoning causes harm to brain development and can result in a range of mental and physical health conditions. For these reasons, addressing lead has been and remains a priority for advocates of children and families, including the Michigan League for Public Policy and our Kids Count in Michigan Project.
The impacts of lead are worsened in communities that have been racially and economically segregated like Benton Harbor. Policy decisions in housing and education deliberately segregated children by race and created worse conditions for Black residents, which, along with white flight, have created unequal conditions between Benton Harbor and its neighboring city, St. Joseph. The metro area is still ranked as one of the most segregated in the country.
A map produced by Kids Count in Michigan using data from 2015-2019 shows the ongoing impacts of this legacy: most children in Benton Harbor live in high-poverty census tracts, some with overall poverty rates as high as 62%. In the neighboring and majority-white St. Joseph, children live in communities where the percent of the population below poverty is less than 10%. Since high-poverty neighborhoods are often cut off from resources like healthy food, high-quality healthcare and education, the living conditions in these areas have been found to negatively affect the development of children, separate from lead exposure. These conditions make the impact of lead poisoning in a city like Benton Harbor even more severe.
The momentum to fix our water quality problem has been building, thanks to record investments like the MI Clean Water Plan, that strengthen our water systems while growing good jobs. These efforts, as well as the recent directives and infrastructure package, are important steps. We can build off of this momentum to create safe and healthy communities for all children. Congress must use this moment to go further for children, such as continuing the popular, expanded child tax credit monthly payments, funding universal preschool, reducing child care costs for families, protecting our environment, and making an historic investment in affordable housing. Increasing the supply of affordable housing is especially important to prevent lead poisoning from old housing stock, another source of exposure.
Policymakers have a responsibility to act now to protect children, by passing state funds needed to fix the pipes in Benton Harbor and taking action on the Build Back Better plan that will aid communities in fighting poverty and removing sources of lead exposure across Michigan. And as state officials begin to negotiate billions of dollars in American Rescue Plan funding, measures to prevent lead poisoning, including lead pipe replacement and improving water infrastructure, should be a top priority.
All Michigan residents, but especially our kids, deserve safe water and homes, regardless of the color of their skin, their family's income or their zip code. Our leaders must act quickly to curb the crisis in Benton Harbor, address growing concerns about lead exposure in Hamtramck and other parts of the state, and work to permanently prevent lead contamination from happening anywhere else.
Originally published November 11, 2021 on Michigan Advance. It is shared here with permission.
Stay connected with Detroit Metro Times. Subscribe to our newsletters, and follow us on Google News, Apple News, Twitter, Facebook, Instagram, or Reddit.