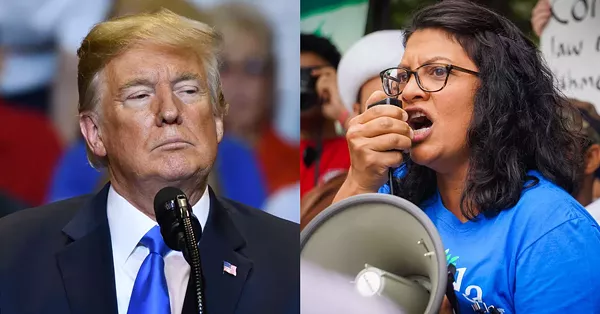 Here in Detroit, we've often felt like Rashida Tlaib was
a lone voice of reason in local politics
, and we're glad to see that now she's serving as one of the lone voices of reason on the national stage, too.
On Thursday — Tlaib's first day serving in Congress —
The Detroit Free Press
published a piece co-written by Tlaib that
calls to begin impeachment proceedings against President Donald Trump
. It is co-authored by fellow lawyer John Bonifaz, the co-founder and president of Free Speech For People and co-author of
The Constitution Demands It: The Case for the Impeachment of Donald Trump,
which was published last year.
"President Donald Trump is a direct and serious threat to our country," it begins. "On an almost daily basis, he attacks our Constitution, our democracy, the rule of law and the people who are in this country. His conduct has created a constitutional crisis that we must confront now."
As Tlaib and Bonifaz see it, the list of impeachable offenses committed by the president is already long, including but not limited to: "obstructing justice; violating the emoluments clause; abusing the pardon power; directing or seeking to direct law enforcement to prosecute political adversaries for improper purposes; advocating illegal violence and undermining equal protection of the laws; ordering the cruel and unconstitutional imprisonment of children and their families at the southern border; and conspiring to illegally influence the 2016 election through a series of hush money payments."
But while the authors concede it's up to the FBI's Special Counsel Robert Mueller to determine if Trump colluded with the Russian government to interfere with the 2016 election and to prosecute accordingly, they say Congress has the power to "prevent future harm to our government" by beginning impeachment proceedings against the president.
"Those who say we must wait for Special Counsel Mueller to complete his criminal investigation before Congress can start any impeachment proceedings ignore this crucial distinction," she writes. "There is no requirement whatsoever that a president be charged with or be convicted of a crime before Congress can impeach him. They also ignore the fact that many of the impeachable offenses committed by this president are beyond the scope of the special counsel's investigation."
"This is not just about Donald Trump," the authors write. "This is about all of us. What should we be as a nation? Who should we be as a people? In the face of this constitutional crisis, we must rise."
It's Tlaib's latest move against Trump. After she won the election in November, she gave copies of
The Constitution Demands
to her colleagues in the House along with a quote from Ella Wheeler Wilcox's poem "Protest": "To sin by silence, when we should protest, makes cowards out of men." She also circulated emails collecting signatures to demand Trump release his tax returns as an early step in the impeachment investigation.
"The first step to impeachment is gathering the evidence into Trump's illegal actions," she wrote in the email. "Seeing his tax returns could provide evidence of connections to Russian oligarchs close to Vladimir Putin, or show a pattern of corruption and fraud. We demand Congress access and publicly release Donald Trump's tax returns!"
In August 2016, Tlaib was forcibly removed along with 11 other women for disrupting one of Trump's speeches in Detroit. There, Tlaib denounced Trump's racism, telling him that "our children deserve better," and implored him to read the U.S. Constitution.
On Thursday evening, Tlaib told a crowd, "We're gonna go in there and we're gonna impeach the motherfucker."
the crowd goes NUTS the moment Rep. Rashida Tlaib says: "We're gonna go in there and we're gonna impeach the motherfucker."

via @LevineJonathan 👀

pic.twitter.com/DSZXRbNHrk

— J.D. Durkin (@jiveDurkey) January 4, 2019
Stay on top of Detroit news and views. Sign up for our weekly issue newsletter delivered each Wednesday.