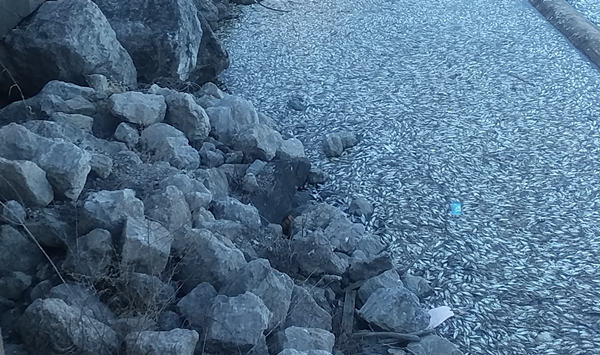 People are freaking out about thousands of dead fish floating down the Rouge River in recent months, but officials say there is no cause for concern.
An anonymous tipster shared photos of countless dead fish, which indeed looks alarming, if not apocalyptic. On Thursday, WJBK Fox 2
ran a story
, "Residents concerned over surge of dead fish in Rouge River," citing fears about the nearby Marathon factory.
Our tipster says he has been working in the area for a long time and has never seen this many dead fish.
But environmental group Friends of the Rouge say the fish died not because of pollution but due to the sudden cold snap.
"You may have seen recent news reports of large numbers of dead fish floating in the Rouge River or even seen them yourself," they say in a press release. "Given the long history of pollution in the Rouge River, it is easy to jump to the conclusion that these fish were poisoned by toxic chemicals. That is not the case."
According to the group, the fish are Gizzard shad (
Dorosoma cepedianum
) and can't tolerate temperatures below 36 degrees Fahrenheit.
"Luckily, they are also prolific spawners and their populations will rebound quickly," they say. "The dead fish are unsightly but do provide food for seagulls and other wildlife."
Still, Detroit Rep. Cynthia Johnson told Fox 2 she's keeping specimens in her freezer to get tested.
Stay on top of Detroit news and views. Sign up for our weekly issue newsletter delivered each Wednesday.