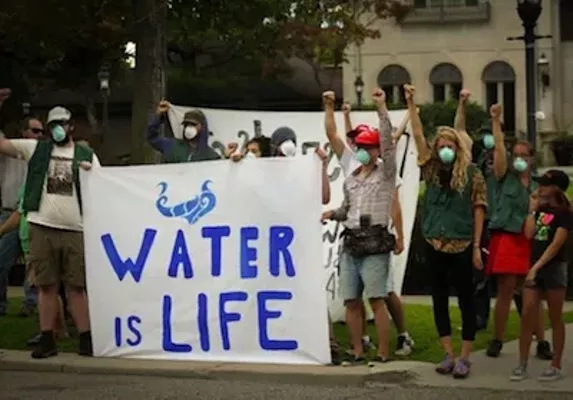 Detroiters would see increased job opportunities and fewer water shutoffs and home foreclosures under a series of bills to be introduced over the coming months in Detroit City Council.
The so-called "People's Bills" designed to "create economic upward social mobility for Detroiters" were unveiled today in a news conference by Councilmember Mary Sheffield.
They include plans to:
• Mandate 51% of Detroiter hiring on construction and demolition projects and lower the current $3 million threshold at which existing hiring rules kick in.
• Amend a
weak Community Benefits Ordinance
to ensure it
provides tangible benefits.
As written, the ordinance requires only that developers receiving significant city incentives engage with the community and form a non-binding agreement.
• Create a water affordability plan whereby rates vary based on income. Last year, nearly
18,000 people had their water service shut off
for past-due paid bills. As of this spring, the average past-due bill was about $660.
• Help Detroit homeowners living in poverty more easily access a tax exemption program. Detroit this year
settled an ACLU lawsuit
that alleged the city had made the assistance too difficult to obtain.
• Lower parking ticket fines from $45 to $30 and reinstate an additional reduction for prompt payment to further reduce the fine to $15.
• Create a 'Homeless Bill of Rights' for people staying in publicly funded shelters.
• Better fund a so-called
Affordable Housing Trust Fund
(otherwise known as the Detroit Affordable Housing Development and Preservation Fund) that helps create affordable housing for households living at or below 30 percent of Area Median Income — or approximately $15,000 per year.
• Eliminate cash bail for city offenses.
"When I was elected to the Detroit City Council, I promised to offer a more open, transparent and representative form of government to Detroiters," Councilmember Mary Sheffield says in a news release. "The introduction of the People's Bills is the direct result of that promise and my attempt to give the people a voice in the public policy process and create a climate in Detroit by which all Detroiters have the opportunity to prosper and improve their quality of life."
Sheffield last year introduced a bill requiring developers receiving significant incentives from the city to set aside 20 percent of their residential units as affordable. The bill passed, but was weakened by amendments from the Duggan administration.
Stay on top of Detroit news and views. Sign up for our weekly issue newsletter delivered each Wednesday.