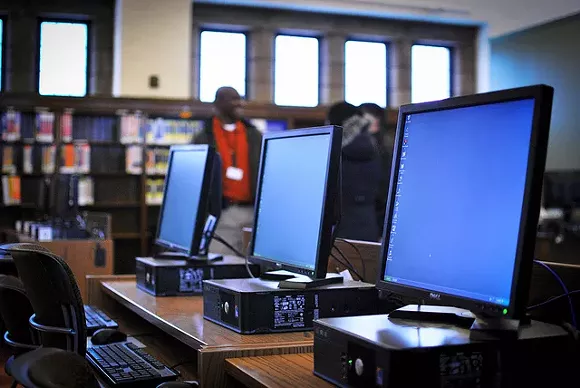 While residents of downtown and Midtown
celebrate the launch of gigabit internet service
, the FCC reports that 40 percent of city residents lack any form of broadband access.
Like long EMS response times and nuisance wildlife, lack of broadband connectivity is a problem more often associated with rural areas than cities, but one which also plagues residents of Detroit's poorest neighborhoods.
In a recent article,
The New York Times
explored the effects of the
digital divide
on Detroiters, chronicling the difficulties of looking for a job without internet access in an era of online applications.
"It's like fighting without a sword," said Deborah Fisher, director of the Hope Village Initiative, a nonprofit effort to improve social services in the neighborhood. "Broadband access is a challenge and a major factor in economic opportunity and employment here."
The Parkman Library, which serves the neighborhood, is the only connection many local residents have. There, they rely on time-limited internet service for access to an increasingly broad range of employment and social service resources.
Like earlier
NYT
coverage of the Detroit Public Schools
, the story presents as a stark contrast to media cheerleading over store openings and new development in the city's core, and reminds us all just how far Detroit still has to go to before it can claim a comeback for all its citizens.