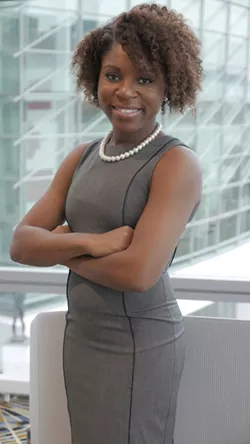 It appears that the campaign of Myya D. Jones,
the 22-year-old woman running for mayor of Detroit
, has hit a bit of a snag.
According to a press release, Jones' name will not appear on Detroit's primary ballot. Although the campaign says she collected enough signatures, Jones is ineligible to appear on the ballot for technically not being registered to vote in Detroit for at least one year before filing for office.
Per Michigan law, Jones changed the address on her drivers license when she went away for college at Michigan State University in Lansing. However, Detroit's city charter requires that elective officers must be a resident of the city and registered to vote there for one year at the time of filing.
Nevertheless, Jones has announced she will continue her campaign as a write-in candidate. "Women and Millennials are under represented in our American political system," she says in a statement. "It's our Constitutional right to run for office and now more than ever we need to start exercising it."
Notably, the same thing basically happened to current mayor Mike Duggan, who ran a successful write-in campaign after it was determined that he submitted his signatures two weeks early. Fellow mayoral candidate Ingrid LaFleur
was also forced to run a write-in campaign
after it was determined that she had not established residency by the deadline.
Detroit's primary election will be held on Tuesday, August 8.