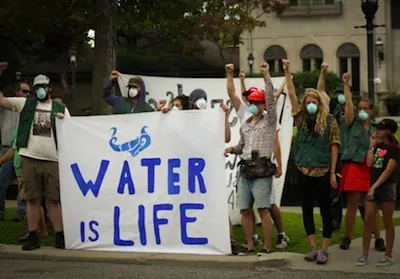 It's water shutoff season in Detroit, and the government's annual elimination of a resource essential to human life appears poised to affect up to about 17,500 households in America's poorest big city.
The number provided by the Detroit Water and Sewerage Department represents residential customers who are more than 60 days behind on their water bills. Shutoffs are to begin next
month,
after warning notices are issued. Last year, about 17,700 households had their water cut off for non-payment.
The tradition extends back to
2014,
when the post-bankruptcy austerity policy was first implemented under Emergency Manager Kevyn Orr. That year, the city made international headlines as
33,000 households lost their water service
and the United Nations came to Detroit to examine the situation. It later emerged that big commercial customers, like Ford Field and Joe Louis Arena, owed tens of thousands of dollars in water bills, but
did not have their service shut off
.
DWSD has said it can't do without the money (the average past-due bill right now is about $660, according to
the
The Detroit Free Press,
and DWSD says it rolls unpaid balances into rates that affect all Detroiters) and that the risk of shutoff prompts customers to pay. The number of residential customers who receive shutoff notices belies the number of people who will go on to actually have their water shutoff, a DWSD spokesman said in an email. The agency expects that number to be about 2,000.
Spokesman Bryan Peckinpaugh said the estimate is "based on analysis of when customers pay their bill and enter payment plans," though he also indicated the utility has not in the past analyzed how many households in the spring delinquent crop go on to have their service cut off. Last year at this time, about 18,000 residential customers were 60 days delinquent. By October, 17,700 households had water service shut off, though that number includes people who lapsed on payment plans and ran into other issues.
Though DWSD casts the reduction in the number of affected households since the 2014 peak as an improvement, water rights advocates charge more can and should be done.
"We have not moved forward since day one," says Meeko Williams, who runs the nonprofit Hydrate Detroit. "This has to stop. All this intimidation, it's disgusting, and we've been through this since 2014."
Williams says the city should enact water affordability rules that prevent shutoffs from happening in the first place. The program Williams envisions would rely on an income-based model to set the rates people are to pay.
"We're not talking about, 'we want free water,' we want affordable water that we can pay for," says Williams.
Councilmember Mary Sheffield in January said she
plans to take up the issue
this year. A low-income assistance program was launched in
Philadelphia last year,
offering people payments as low as $12 per month. The city also indefinitely froze the debt for customers behind on their bills.
In an interview with
the
The Free Press
, DWSD director Gary Brown acknowledged poverty often prevents people from
paying,
but stopped short of supporting a comprehensive affordability plan. In an email, Peckinpaugh said such a plan would be difficult to enact in Michigan, where a law prevents utilities from charging a higher rate to one customer class to subsidize a lower rate for a separate customer class.
DWSD has been sued for allegedly violating the very law it is using to say it can't create a water affordability plan. Customers have brought at least two class action lawsuits against the utility alleging its drainage fee, which charges customers based on the amount of impervious land they have, is actually a
"rain tax"
in violation of the Headlee Amendment. At least one of those cases was settled.
Brown told
the
The Free Press
"There's more than one way to get to the problem but, again, the problem is poverty." A program called WRAP, the Water Residential Assistance Program, helps households at or below 150 percent of the federal poverty line of $36,450 for a family of four. WRAP freezes past due balances to avoid further late charges and provides delinquent customers a $25 monthly bill credit and up to $700 toward their past due balance. The program lasts for 12 months with the possibility of second-year re-enrollment. WRAP is a Great Lakes Water Authority program and its funding for Detroit comes from the city's annual allocation to GLWA, contributions from Detroit water customers (50 cents on each bill), and donations. There are currently about 3,500 households enrolled.
As the city avoids moving to an income-based payment model for water service, Williams says there are additional issues with water shutoffs that need to be addressed. He charges that some of the shutoffs are done in
error,
and that DWSD is putting people on payment plans it knows they can't afford. Currently, there are about 12,000 people on payment plans that include an interest fee, according to the department.
Williams adds that as DWSD shuts off water for poor residents, it's failing to plug
another drain on resources
: water that flows at abandoned properties. Peckinpaugh has said water flowing at abandoned properties is a rare occurrence, but a Detroit real estate agent said last year that he sees water gushing at one property a month at least.
Stay on top of Detroit news and views. Sign up for our weekly issue newsletter delivered each Wednesday.