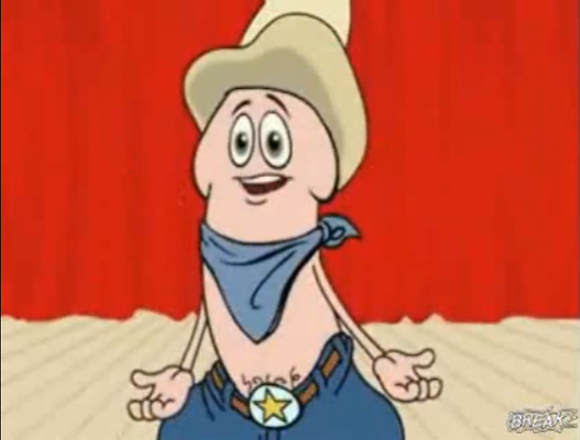 It's one of those only-in-America stories: An outraged parent
screaming at a school board
because that parent's son saw a cartoon featuring talking genitals on a teacher's cell phone.
It happened three months ago at a meeting of the Southgate Community School District, after revelations that, somehow, students at Anderson High School had obtained a teacher's unlocked cell phone and viewed a video featuring, among other things, a cartoon character in the shape of a penis.
We understand it's a clip from the R-rated film
Puberty: The Movie
. The clip in question is a send-up of sex education videos called
Puberty Pals
, with the subtitle "What the heck is happening to my genitals?" The minute-and-a-half segment is hosted by a cartoon character called Paulie the Penis, voiced by comedian Amy Sedaris. It wasn't shown in class. It's unclear how the students accessed the teacher's phone, in fact. But, in the end, the teacher was reprimanded, and teachers were reminded to leave their phones password-protected and locked. Sounds like case closed to us.
According to the News-Herald
, however, school Board President Rachel Reed claimed that the students, one of whom was her son, were forced to watch the video, and were "uncomfortable" while watching it. And if you think parents screaming at a school board is kind of wild, you should see the 75 comments on the news story. That appears to be a very public donnybrook, with shrill accusations, bad tempers, and the occasional adult asking, quite rightly, "For fuck's sake, why is this a big deal?"
Now, if you ask us, it's kind of strange that high school-age children can watch movies with people being torn apart, burned, tortured, and killed, and can play video games filled with violence, but a minute and 30 seconds of a friendly cartoon chubby explaining nocturnal emissions elicits screams before a school board. Heck, before these kids get out of their 100 percent sex-free education, they'll probably have military recruiters try to talk them into some actual violence. But that's American culture for you. As
Dan Savage once told us
: "Canada got the French, and Australia got the convicts, and we got the Puritans."
We bring the story up because we received a note today, with a link to the story in the
News-Herald
, alleging that the "whistleblower" who made the matter public was "ousted" at a special meeting of the Southgate Community School District last night. The district confirms that the president of the board, Rebecca Reed, is now a trustee, and the new president is the former vice-president, Paul Knott, but stopped short of saying that the matter was related to the talking cartoon penis.
We left a message with Superintendent Leslie Hainrihar trying to figure out what really happened, but we don't suspect any "porn cover up" is taking place, as alleged in the note. As with many "anonymous tips," we suspect somebody still upset about Paulie the penis is trying to resuscitate a non-issue.
In fact, the main thing that stands out to us is this: We've heard of cartoons featuring talking genitals before! Yes, when you write for
MT
, you come into contact with all sorts of stuff.
Almost six years ago, we spoke with cult film expert and author Mike White
about what he was up to then and he mentioned he was writing a pice for
Paracinema No. 10
about "movies starring talking genitals. "Yeah, that's what I did with my summer," White told us, "watching eight or nine films like that, including
Pussy Talk
, a French porn film with talking genitals."
Asked what it was like, he had said, "Kind of like
Chatterbox
, but a little less funny."