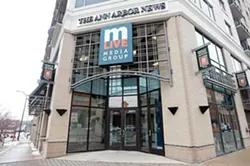 On Wednesday, MLive Media Group — the parent company of the statewide news website,
MLive.com
— revealed it was cutting of 29 "content positions" across its publications, announcing the changes
in a post
on its website.
According to the post, MLive vice president of content John Hiner says the number of reporters, photographers, and producers will remain intact statewide. But as Anna Clark points out in a story
posted to CJR
Thursday, the news follows recent buyouts at the
Detroit Free Press
and the
The Detroit News
. And Clark makes the case for why Michigan is in dire need of quality journalism — especially now:
Restructurings are sometimes necessary at news outlets, and some of these changes may pay off. But it's hard not to feel skeptical at these words, in light of the acknowledged cuts—yet another pledge to do more with less.

It's also hard not to feel concerned about the journalistic resources available in Michigan—a state that ranks dead last in the 2015 State Integrity report card from the Center for Public Integrity. This is the state where a city drank lead-contaminated water for nearly 18 months until a band of outsiders and citizen-activists forced dismissive public officials to admit that it was poison. Michigan is scarcely out of navigating the largest municipal bankruptcy in US history, and it has made controversial use of emergency management over its distressed cities and school districts. Oh, and Michigan is one of only two states where both the governor's office and the legislature are exempt from open records requests.

This is, in short, a place in uncommon need of sunlight. But the ranks of the media outlets with the biggest audiences are still declining.
On Twitter, Clark characterized the move as a "terrible blow to journalism."
Terrible blow to journalism in a state that needs it more than ever, esp. on the heels of big buyouts at Detroit News & Detroit Free Press.

— Anna Clark (@annaleighclark) January 6, 2016
According to MLive, it has the largest audience of any media company in Michigan, with more than 11 million monthly visitors.