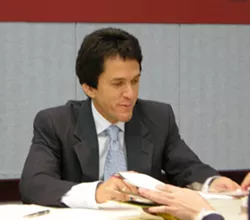 Where to begin? If you're one of the five people who listen to
The Sports Reporters
on ESPN airwaves on Sunday mornings, you were among the lucky chaps that got to hear Mitch Albom give his opinion on Florida State's $950,000 settlement with Erica Kinsman.
A quick primer: a federal Title IX lawsuit was filed against FSU on behalf of Erica Kinsman, a former student who said she was raped by star quarterback Jameis Winston in 2012. Last week,
the university announced
it agreed to pay Kinsman $950,000 — the largest settlement for Title IX claims regarding indifference to a student's reported sexual assault.
And what does Mitch Albom think she should do with that money? Well first,
as Vice Sports so adequately pointed out
, it doesn't fucking matter. But just for funsies, here's what he had to say:
"First, I'll say I'd feel a lot happier about this is the woman took the money and gave it to charity and said 'that's not what this was about.' I always am suspect when people end up saying, 'well, I'm going to take [the money].'"

The implications of Albom's statement are disgusting at best, but rather than dissect the idiocy inherent in his words, we'll leave you with our favorite description of Mitch, authored by the
actual writer
H.P Lovecraft: "a grotesque scaly body with rudimentary wings."
Sounds about right.