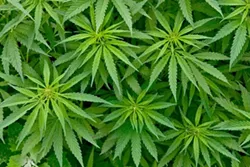 The latest effort to let Michigan voters decide whether marijuana should be legalized is running ahead of schedule, according to organizers, with more than 100,000 signatures gathered so far to put the issue on the November ballot. A similar effort was derailed last year when proponents failed to obtain the appropriate amount of signatures in the allotted time.
The Coalition to Regulate Marijuana Like Alcohol has a total of 180 days to collect 252,523 valid signatures from people in support of the measure. Spokesman Josh Hovey said the group started its effort around Memorial Day.
"If we can keep up this momentum, we will have all signatures in four months rather than the six months required by state law," said Hovey.

If approved by Michigan voters in November, the marijuana initiative would:
- Legalize personal possession, cultivation, and use of limited amounts of cannabis for adults 21 and older;
- Legalize the cultivation of industrial hemp;
- License marijuana businesses that cultivate, process, test, transport, and sell marijuana;
- Protect consumers with proper testing and safety regulations for retail marijuana; and
- Tax marijuana at retail levels with a 10 percent excise tax and 6 percent sales tax, which will support K-12 public schools, roads, and local governments.
The Coalition to Regulate Marijuana Like Alcohol is being spearheaded by the Marijuana Policy Project, a national organization that has been responsible for successful legalization efforts throughout the country. Coalition members include the ACLU of Michigan, the Drug Policy Alliance, the National Patients Rights Association, Michigan NORML, MI Legalize, the Michigan Cannabis Coalition, and lawyers from the State Bar of Michigan Marijuana Law Section.