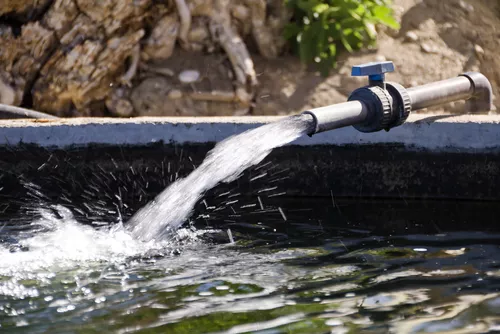 Perhaps you saw
yesterday's blog post
about the Nestlé's plan to more than double the 300,000 gallons per day it pumps out of Michigan aquifers. The crux of that story was the way Michigan's Department of Environmental Quality notified 10 million Michiganders that they had a right to comment on it. According to
some really great reporting from MLive
, MDEQ made the announcement in "the DEQ Environmental Calendar, a bi-weekly clearinghouse for permitting decisions, new administrative rules and other official notices that is not widely read by the general public."
Of course, the DEQ has been at the center of controversy for several years now, its director and spokesperson resigning in shame over the agency's involvement in the Flint water crisis. The way public comment over Nestlé's groundwater grab was invited by burying the notice in a little-read administrative document would appear to further tarnish the department's already compromised reputation. And if not for MLive's nick-of-time reporting, the people of Michigan may not have widely known that the comment period ends today, Nov. 3.
And, quite rightly, the situation has water preservation groups hopping mad. This morning, we heard from Jeff Ostahowski of Michigan Citizens for Water Conservation, and it sounds like Nestle and MDEQ are in for a fight.
We had estimated that "tens of thousands of people all over Michigan rely on groundwater for daily use." Our conservative estimate was way off. Ostahowski says, "Four million people in Michigan get their drinking water from aquifers, and we all can be certain that if Nestlé is granted this huge increase, there will be far more than the 45 wells Nestlé states in their application that will be negatively affected."
Ostahowski goes on: "We believe that there are literally tens thousands of Michigan citizens who are opposed to this new huge increase. These people in opposition come from everywhere, not just around the Muskegon watershed."
"Nestlé has already taken more than a
billion
gallons of our fresh water and paid
nothing
for it. If they are granted this increase, they will have to pony up the tremendous sum of $200 per year, for a 250-gallons-a-second increase. This is a travesty. ..."
Ostahowski says his group promises to perform a technical review of the Nestlé permit application, which he says, at first blush, "appears to be a terribly flawed document."
That review will likely come some time in December. We'll follow the issue into the future, but, for the next few hours, you can make your voice heard officially by commenting. Here's how:
Through the end of Nov. 3, you can still submit written comments to Carrie Monosmith by email at [email protected], or by mail to Michigan Department of Environmental Quality, Office of Drinking Water and Municipal Assistance, P.O. Box 30241, Lansing, Michigan 48909-7741. Comments received by November 3, 2016 will be considered in the decision prior to final action. Information Contact: Carrie Monosmith, Office of Drinking Water and Municipal Assistance, 517-284-6535; or [email protected].