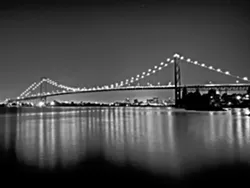 Equal Justice Under Law. Those words are carved over the U.S. Supreme Court building in Washington, D.C., and when you see that majestic structure, and think of the great men once on the court, you can almost believe in that concept. Equal justice, under law.
Then there is Michigan. If our state government were to engrave a motto on the Capitol Building in Washington, it would take two lines. The first would say: Money Talks, We Listen.
Beneath that it would say, Screw Justice: We Protect Our Own.
We have a bunch of amoral hacks in this state, and a system that both rewards bad behavior and could turn Little Orphan Annie into a hardened cynic. Our Legislature is rapidly becoming both more corrupt and more and more irrelevant, which ought to worry you.
That's because for most people, state government is the branch of government that affects their lives the most.
Our lawmakers are supposed to act with the good of all the people in mind, study the issues, and look out for their interests. To be sure, some still do that. But not nearly enough of them.
Twenty years ago, we foolishly enacted a system of term limits, which have led to a vast increase in incompetence and corruption.
Lawmakers can stay in the state House for only six years and the Senate for eight, after which they are banned for life. This has meant three things: 1) There is no long-term memory of how to get things accomplished, 2) the special interests have far more power than they used to, since the lawmakers don't know as much, and at any rate, the lobbyists can wait them out, and 3) the legislators are even more prone to selling out, since they will need new jobs in a few years.
The best evidence of this is the well-documented case of Matty Moroun, the monopoly owner of the Ambassador Bridge. The need to build a new bridge over the Detroit River is perfectly clear.
It is essential for our long-term economic future. Canada will pay our share of the costs (we will pay them back later out of toll revenue from the new bridge, but only after it is constructed) and on top of that, we can use the $550 million from Canada to get $2.1 billion in federal matching highway funds from Washington.
There is no downside, none. Except for Moroun, a man who is the moral equivalent of the spider Shelob in The Lord of the Rings. He is worth $1.8 billion, and is 85 years old, and wants more.
So to protect his monopoly, he has showered key legislators with lavish "campaign contributions" and managed to prevent the bridge bill from even coming up for a vote in the Legislature.
Never mind that Gov. Rick Snyder — whose party controls the Legislature — very much wants this bridge. Never mind that Ford, General Motors and Chrysler want the bridge, or that Jennifer Granholm, Brooks Patterson, Dave Bing and liberals and conservatives alike support the bridge. Money talks.
Matty bought the lawmakers; you can go to the Michigan Campaign Finance Network and look up who and how. In the end, Snyder went around them and found a way to do it anyway.
Even when lawmakers engage in even more blatant criminal-seeming behavior, the system, by and large, protects them.
Take the case of a particularly repellent creature, one state Rep. Roy Schmidt, from Grand Rapids. Schmidt was elected as a Democrat a few years ago, but his district has become more Republican.
Lacking the loyalty of a sewer rat, Schmidt conspired with GOP Speaker of the House Jase Bolger to switch parties.
While this was going on, Schmidt went right on raising money from his fellow Democrats. Lower than a snake's belly, yes. But that's far from the worst of it. He and Bolger wanted to make sure Schmidt had no real competition. So Schmidt not only waited to the last possible moment to switch parties, he attempted to offer what looked very much like a bribe to a phony candidate to run as a Democrat.
His son offered Matt Mojzak, a store clerk he knew, $450 to file for the race. The idea, of course, was that he'd end up taking a fall. Mojzak, who didn't even live in the district, initially agreed — but then backed out. Desperate, the Schmidts offered him $1,000 instead, to be paid out of the lawmaker's campaign fund — money given to him by Democrats who thought he was one of them.
But Mojzak got scared or got a conscience — and stayed out of the race even after the legislator himself oozed into the store where he worked to try to get him to stay in. Schmidt then lied about even knowing Mojzak, a lie exposed when a prosecutor got hold of a long series of text messages. The state police were conducting an investigation, and Detective Robert Davis said in an affidavit that he believed both Bolger and Schmidt might have conspired to commit perjury.
I can think of a few other possible crimes as well. But not to worry, slime balls. Kent County Prosecutor William Forsyth shut the investigation down, just before search warrants were executed. He said he concluded that none of his fellow Republicans had committed any crimes! Michigan Attorney General Bill Schuette, probably the most partisan AG in the office in my lifetime, was asked to reopen the investigation. He must have had to stifle his laughter.
Go after his fellow Republicans? Meanwhile, Schuette had his own cover-up — er, "investigation" to manage. Livonia congressman Thaddeus McCotter was kicked off the primary ballot in May when it was learned that most of his petition signatures were fraudulent.
Clearly, this was a crime. So the attorney general's office looked into all this — and earlier this month, indicted four of McCotter's aides, who apparently did the same thing in past elections.
They may be facing heavy jail time. But ... what about their boss, the man whose office this was? Clearly, he set the moral tone. Wouldn't you think he ought to be guilty of something too?
Well, in a rational world, of course. But the attorney general is also a former GOP congressman. You can't expect a man to turn against his own kind now, can you? All the attorney general said about McCotter was that he was "asleep at the switch." Yes, and Stalin had no idea what was going on in the gulag. Relieved, a grateful McCotter thanked Schuette for his "earnest, thorough work on this investigation." (I believe LMAO, is the correct acronym.)
McCotter then signed off to enjoy the "enduring blessings of private life." Meanwhile, his aides are facing jail, the district is a mess, and his abrupt resignation will cost us $650,000.
That's how much it costs to hold a special primary to help select someone to fill McCotter's seat for two months. This could have been avoided. State officials explained that if only one Democrat and one Republican filed, they wouldn't have to hold a primary.
Indeed, only one Democrat came forth. Logically, only one Republican should have as well — Kerry Bentivolio, who had won the GOP primary for the full, two-year term.
But four other Republicans insisted on putting their names on the ballot for a chance to be a congressman for a few weeks.
They couldn't care less about making cash-strapped cities pay to feed their egos, any more than their fellow GOP prosecutors could bring themselves to really investigate their shady comrades.
Money talks. We have managed to achieve perhaps the worst government it can buy. But hey — ain't democracy grand?
Jack Lessenberry opines weekly for Metro Times. Write to [email protected]