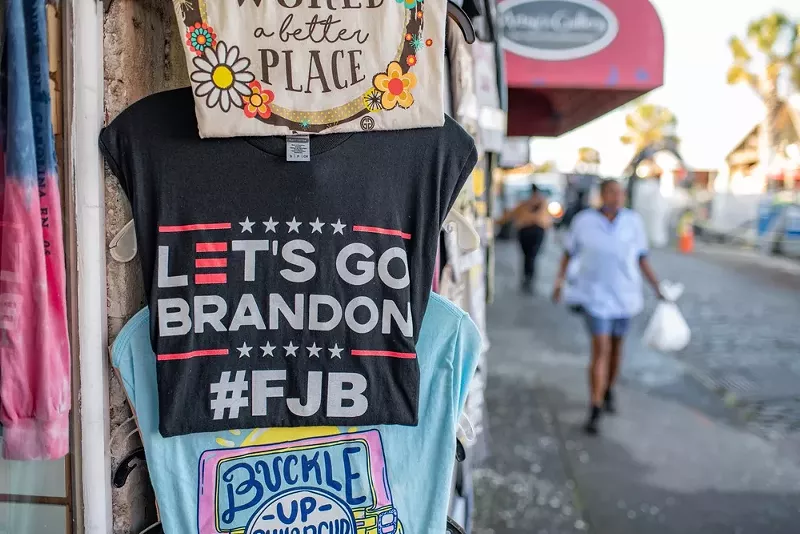 Two students in western Michigan are suing their school district after they were prohibited from wearing "Let's Go Brandon" sweatshirts.
The lawsuit filed in U.S. District Court
on Tuesday alleges the Tri County Area Schools violated the First Amendment rights of the students, who are in seventh and ninth grade.
A teacher and principal at Tri County Middle School – about 30 miles north of Grand Rapids – ordered the students to remove their sweatshirts emblazoned with the phrase "Let's Go Brandon," a coded insult that means "Fuck Joe Biden."
The students complied and removed the sweatshirts to avoid disciplinary action.
The district's dress code prohibits clothing "with messages or illustrations that are lewd, indecent, vulgar, or profane."
The students' attorneys at Foundation for Individual Rights and Expression (FIRE) insist the phase is a "sanitized" and "non-profane, non-vulgar political slogan used to express disapproval of President Joe Biden."
"The slogan exists as a way to express an anti-Biden message without using profanity," FIRE attorney Conor Fitzpatrick said. "A public school district cannot censor speech just because it might cause someone to think about a swear word."
According to the lawsuit, school officials allowed students to wear gay pride-themed hoodies.
"Criticism of the president is core political speech protected by the First Amendment," Fitzpatrick said. "Whether it's a Biden sticker, 'Let's Go Brandon' sweatshirt, or gay pride T-shirt, schools can't pick and choose which political beliefs students can express."
The lawsuit seeks a court order to block the district's "viewpoint-discriminatory ban" on the "Let's Go Brandon" apparel. Attorneys are also asking a judge to strike down a provision of the district's dress code that bars clothing that "calls undue attention" to students.
FIRE attorneys said the case is similar to
Tinker v. Des Moines
, which resulted in the Supreme Court confirming students' free speech rights at schools. In that case, students were prohibited from wearing black armbands to protest the Vietnam War.
"These students should not only be allowed to express their political beliefs, but should be encouraged to do so," FIRE attorney Harrison Rosenthal said. "America's students must be free to exercise their constitutional rights, not just learn about them."
Coming soon: Metro Times Daily newsletter. We'll send you a handful of interesting Detroit stories every morning. Subscribe now to not miss a thing.

Follow us: Google News | NewsBreak | Reddit | Instagram | Facebook | Twitter