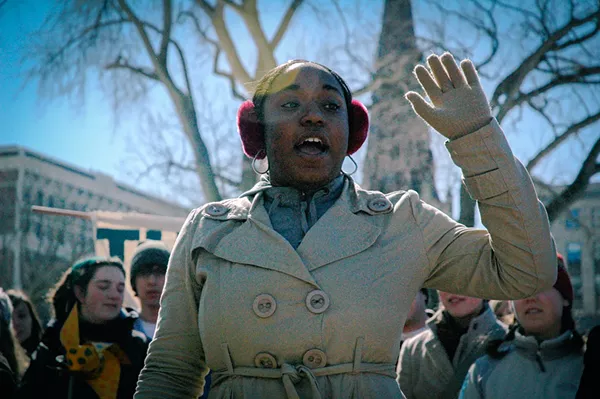 (
Ed. note: Comments from the MDOC were added at 8:30 p.m.
)
The Council on American-Islamic Relations in Michigan is bringing two civil rights complaints against the Michigan Department of Corrections for denying a Muslim woman the ability to practice her religion.
CAIR-MI filed a complaint with the Michigan Department of Civli Rights on behalf of Siwatu-Salama Ra, a 26-year-old black environmental activist serving a two-year sentence at the Huron Valley Correctional Facility. Ra is pregnant and expecting to give birth in June.
The MDOC denies that the allegations are true.
Amy Doukoure, an attorney with CAIR-MI, says the MDOC is violating Ra's constitutional rights by denying her freedom to express her religion. CAIR-MI alleges that the prison isn't providing Ra with pork-free meals, nor has it provided her with a hijab, which Islam requires women wear during their daily prayers.
The prison said it would provide Ra with vegan meals, Doukoure says, but she adds that Ra is only asking for pork-free meals. Ra doesn't want to give up all meat because she's pregnant, and she's already losing a significant amount of weight, Doukoure says. She adds that the prison has clear directives that state that it needs to offer vegetarian options for each meal.
Doukoure says the issues amount to a clear First Amendment violation.
Metro Times
. Doukoure adds that prison officials also offered Ra a bible, but don't keep a Quran on the premises.
MDOC spokesperson Chris Gautz wrote in a statement to
Metro Times
that the prison doesn't serve pork and accused CAIR-MI of making an untrue statement in regards to the meat. He claims that Ra is provided with a "protein snack" that includes meat three times daily. Doukoure says food workers at the prison told Ra that pork is served.
Gautz also says a Quran is kept in the prison, and claims that a hijab will be delivered next week.
But Doukoure says Gautz isn't providing the full picture.
"Who was Ra supposed to ask?" Doukoure says. She notes that the MDOC "did offer to allow Ra to purchase one several weeks after she had been there, and only after we called Lansing — and they've admitted that she has been in the facility for 50 days now without a head scarf."
In response to Gautz's claims about the Quran, Doukoure says, "Siwatu asked for a Qur'an from [prison] Chaplain Tellas directly and was told that they do not have a Qur'an on site."
A separate complaint alleges that the MDOC denied a clergy member from the Masjid Wali Muhammad mosque visitation to Ra. Doukoure says the mosque is Michigan's oldest, yet the MDOC denied access because it couldn't verify that it's a legitimate religious organization.
However, Doukoure questioned that reasoning because the mosque has done inmate outreach at the prison for 30 years, and she says CAIR has emails that show previous correspondence between the prison and mosque.
Doukoure says the issues with clergy access to Ra also represent a First Amendment violation.
"I was [at Huron Correctional Facility] on Thursday and there were no less than 30 Christian volunteers and clergy with bibles, yet the prison hasn't allowed Muslim clergy in. In my opinion, that's an Establishment Clause violation," Doukoure tells us.
She says CAIR-MI wants the MDOC to take immediate corrective measures so the case doesn't have to go any further. But Doukoure notes this isn't the first time CAIR-MI has had issues with the MDOC allowing Muslims to practice their religion.
She pointed to an ongoing case in which
the MDOC refused to feed Muslims more meals at night during the holy month of Ramadan
. A federal judge has repeatedly ruled against the MDOC in that case.
"This is not a one-off from the MDOC," Doukoure says. "This is emblematic of the systemic problems they have with Muslims housed in their facilities. We have a long history with the MDOC."
Gautz claims the mosque hasn't submitted the proper paperwork.
"Once she submits the paperwork, it takes a few days to get it approved. If she submitted it tomorrow, she could likely be allowed to come in early next week," he says.
Doukoure says Gautz's version isn't true, and the mosque submitted two separate letters for the MDOC's consideration.
"The second one I submitted via fax to them, prior to [mosque clergy] presenting it in person," Doukoure tells us. "Both had a letter head on it. They are both attached to the complaint sent to the [Civil Rights Department] as exhibits F and G. The letters themselves, in addition to letterhead, clearly have a website on it where the MDOC could have visited to see the validity of the mosque."
Doukoure also notes that an email from the prison states that the paperwork needs "ecclesiastical endorsement." That's a problem, she says, because Muslims do not have "ecclesiastical endorsement."
Ra's imprisonment
stems from a controversial case
. She used a registered gun to defend her family members from a woman who attempted to use a car to run over her mother, and who rammed her car into a vehicle in which Ra's two-year-old daughter was playing.
Though it appeared to be a clear case self defense and Ra standing her ground, Detroit Police Department investigators treated her as the assailant, and a jury found her guilty of assault on one charge. Because Ra used a registered gun in the incident, she was hit with a two-year sentence, as is mandatory under Michigan law for crimes committed with a gun.
Attorneys plan to appeal her sentence and will ask to have her released on bond during the appeal. The case highlights the role race plays in enforcement of gun laws as well as the problems with mandatory minimum sentences and DPD's investigative policy. Read our full report on that case
here
.
Stay on top of Detroit news and views. Sign up for our weekly issue newsletter delivered each Wednesday.