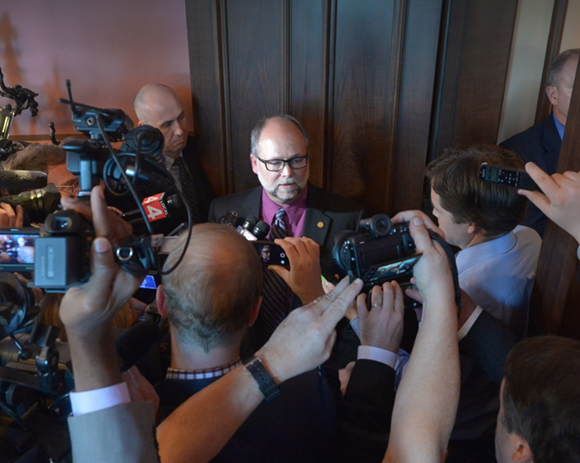 Michigan voters may consider mandated paid sick time in 2020 now that a group of citizens is pushing back against a Republican attempt
to gut a citizen-initiated paid sick time law
.
Last week, the Republican-controlled Senate passed a possibly unconstitutional amendment to cut the number of paid sick days in the citizen-initiated law from nine to four. A second amendment will require employees to work 40 hours instead of 30 hours to earn one hour of medical leave, while a third would exempt 160,000 Michigan small businesses and about 1 million workers.
The state House is expected to approve the amendments on Tuesday or Wednesday.
However, the citizen-led MI Time To Care group that initiated the paid sick time law in 2018 is resubmitting the ballot language for the 2020 election. If approved, the language would ask voters to restore the number of mandated sick days to nine and require employees to work 30 instead of 40 hours to accrue an extra hour of paid medical leave.
"Michigan voters overwhelmingly supported earned paid sick leave legislation, and absent useful and successful negotiation, we will put this issue back on the ballot in 2020," says Danielle Atkinson, MI Time to Care coalition co-chair. "We are prepared to come to the table to negotiate with legislators about specific concerns they have, but we will not stand by while they gut the bill."
MI Time To Care attorney Mark Brewer, a former head of the state's Democratic Party, tells
Metro Times
that a lawsuit is also "still on the table."
Throughout 2018, MI Time To Care and One Fair Wage respectively gathered signatures to put proposals for paid sick time and an increased minimum wage on the Nov. 6 ballot.
The proposals are popular with the state's residents and were likely to pass. But Republicans made them law in September, which kept them off the Nov. 6 ballot. However, the GOP made sure that the laws didn't go into effect until March so they could gut them during the lame duck session, which started last week.
The Senate approved the changes, the House will likely do so this week, and Gov. Rick Snyder will likely sign the law. There's nothing the Democratic minority in the state legislature can do to stop Republicans.
If MI Time To Care gets the question back on the ballot in 2020 and voters approve it, Democratic governor-elect Gretchen Whitmer will be in office. If Republicans attempted to gut the law again, then Whitmer would, in all likelihood, veto the changes.
Brewer also believes a lawsuit could be successful because of a 1964 opinion written by then-attorney general Frank Kelley that states that changes to citizen initiated laws cannot take place in the same legislative session. In other words, Republicans can't legally make these changes until next year when Whitmer is in office and can veto them. So while the GOP may win the battle in lame duck, the war is far from over.
It's also worth noting that the GOP lost the popular vote in the state House in
2014
and
2018
, and only won
by 3,000 votes in 2016
. Still, it currently holds a 63-47 majority, because Republicans gerrymandered the state's legislative districts. So, arguably, a government that the
majority of people didn't want
is killing a raise and paid sick time for low income Michiganders.
Stay on top of Detroit news and views. Sign up for our weekly issue newsletter delivered each Wednesday.