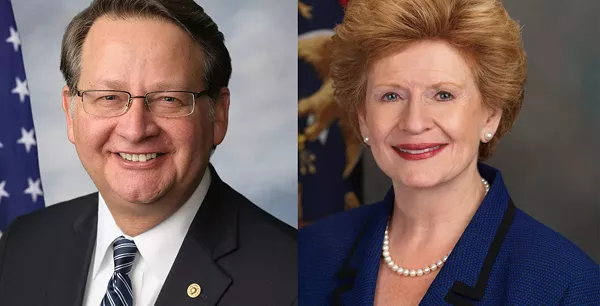 U.S. Rep. Rashida Tlaib
made headlines
in December when she and another rep became the first members of Congress to publicly support the BDS (Boycott, Divestment, Sanctions) movement targeting Israeli companies.
Tlaib, the nation's first Palestinian-American Congresswoman, is part of the party's most progressive wing. It generally supports the international boycott movement designed to hit Israel over its ongoing occupation of the Palestinian territories, which has effectively turned them into
open air
prisons.
Meanwhile, at the other end of the spectrum in Michigan's Democratic Party, centrist senators Debbie Stabenow and Gary Peters — who both receive a lot of money from the pro-Israel lobby — cosponsored a constitutionally questionable
anti-BDS bill
.
As
The Intercept
reports, the Michigan senators' legislation would have, among other things, given state and local governments "explicit legal authority" to boycott U.S. companies that are participating in BDS.
In other words, the government could punish those with whom it disagrees.
The bill died in December at the end of the last legislative session, but Sen. Marco Rubio last week introduced a similar bill. The proposed federal law is an effort to strengthen similar state laws already on the books. Michigan is one 26 states that
made it illegal
for the government to do business with companies or individuals who boycott Israeli companies. Peters also cosponsored a bill that would've outright criminalized supporting BDS.
But the laws also create an awkward situation since Tlaib is part of the government and an outspoken critic of Isreal. (For the record, Tlaib is also
a critic of Muslim states
that commit human rights abuses.)
In a statement sent to
Metro Times
, Tlaib called the anti-BDS laws "fundamentally un-American."
"We cannot have policies that punish people for taking action," she said. "Imagine the further harm it would have caused if the federal government banned civil rights leaders from boycotting buses in Montgomery, Alabama, or banning divestment from Apartheid South Africa.
"Limiting the ability of the people to peacefully organize and partake in direct action to fight against persecution and discrimination is not only barred by the U.S.
Constitution,
but is fundamentally un-American."
Indeed, while punishing American citizens and businesses for speaking out against a foreign nation's government is ludicrous on multiple levels, it's also a flagrant violation the First Amendment's free speech protections, as
two federal judges
have already struck down
similar laws
.
So why would Stabenow and Peters cosponsor legislation that puts a foreign government over Americans' constitutional protections?
Money could have something to do with it. According to Open Secrets, the pro-Israel lobby has
given nearly $900,000
to Stabenow during her career. That includes about
$164,000 during the 2018 election cycle
. Similarly, Peters
took in around $374,000
from the lobby during his career, and he
appears to be a fan
of the American Israeli Public Affairs Committee.
Stabenow didn't respond to a request for comment, and a spokesperson for Peters only
said
"he will not be voting to proceed with any bills until there's a vote to re-open the government."
If
these kind
of laws seem largely symbolic, think again. A speech pathologist in Texas recently lost her public school job
after she refused to sign an oath
pledging loyalty to the Israeli government. Hurricane Harvey victims
similarly had to sign Israeli oaths
before they could receive aid from the state of Texas. Others in Kansas
and and
Arizona have lost jobs for not signing loyalty oaths.
Aside from the lunacy of requiring U.S. citizens to sign oaths to foreign governments, the laws also set a dangerous precedent. If the U.S. government can punish those who boycott Israel, what's to stop it from punishing those who
boycott Tucker Carlson's advertisers
? It could also punish those who support or boycott Nike over Colin
Kaeparenick,
or those who support Democrats or Republicans.
In a statement posted to the ACLU's website, ACLU Senior Legislative Counsel Kathleen Ruane condemned the legislation.
"In the midst of a partial government shutdown, Democratic and Republican senators have decided that one of their first orders of business should be to sneak through a bill that would weaken Americans' First Amendment protections. The bill, Combatting BDS Act, encourages states to adopt the very same anti-boycott laws that two federal courts blocked on First Amendment grounds. The legislation, like the unconstitutional state anti-boycott laws it condones, sends a message to Americans that they will be penalized if they dare to disagree with their government. We therefore urge senators to vote no on the Combatting BDS Act next week."

And though the legislation has bipartisan support, it also has bipartisan opposition. The conservative
National Review
denounced a previous version of the bill as "so mind-bogglingly stupid that it's hard to know exactly what to say about it," adding that the bill "penalizes political beliefs and so is both unconstitutional and unconscionable."
This isn't, however, the first time Peters and Stabenow joined forces with the GOP to do things that are unconscionable. Both backed GOP efforts to deregulate Wall Street just a few years after Wall Street destroyed the country's economy. Stabenow was
instrumental in killing proposed animal welfare rules
that her agri-business donors and Trump opposed, and she teamed up with Republicans
to dilute GMO labeling laws
.
Stay on top of Detroit news and views. Sign up for our weekly issue newsletter delivered each Wednesday.